Everyone knows the story: a cunning warrior leaves home to fight in a lengthy war and then attempts to return to his family, only to be forced to wander around the Aegean for close to twenty years. Odysseus's tale is one that has been carried through the ages...and in the backpack of every high school student. The Odyssey is much more than "that book you read freshman year," however: it actually imparts several valuable lessons about relocation. For employers intent on successfully relocating their employees (preferably in a time period shorter than two decades), Homer's epic demonstrates that providing the proper support, advice, and resources will allow your employees to reach their destinations quickly and easily, no odyssey required!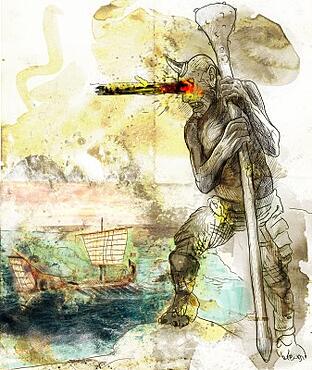 First and foremost, employers should pay close attention to the kind of support Athena provides throughout the Odyssey. While the goddess helps Odysseus out of several tight spots, she also (and most importantly) convinces Odysseus's son to make the necessary preparations within the palace and beyond for his father's return to Ithaca. Upon his eventual arrival, those preliminary preparations are what make it possible for Odysseus to reclaim his rightful place as king. This is an important step that all employers should take during the relocation process. –Have you designated a place for new employees within your company to allow for the smoothest transition and experience? You're going to provide the ship and crew to get your employees across the Aegean and through your office doors, but don't forget to have a stable "home" waiting for them!
Athena also comes to Odysseus's aid when he is forced to fight Polythemus, the people-devouring, monstrous cyclops. With the goddess's support, Odysseus is able to blind Polythemus and thus escape with his life. For new employees, sometimes just thinking about all the effort and strategizing that will have to go into relocating, and everything that "still has to be done!", can make for cyclops-sized bouts of anxiety and uncertainty. Furthermore, it's likely that your new employees have heard some relocation horror stories (what are relatives for?), and might have constructed their own Polythemus of daunting moving misconceptions. Be certain your employees know that you, as their employer, are completely in their corner, ready and willing to field any questions they might have about a move. Be their Athena – help them blind the cyclops of fear and misconception, and let them know it's possible to escape from the process victorious.
Besides Polythemus, Odysseus faces a number of other difficulties. At one point, he is caught in the goddess Circe's grasp after she turns his men into pigs, and later must traverse Hades to consult the prophet Tiresias, who subsequently directs him into the jaws of yet another monster. On Circe's island, our Greek hero is only spared from becoming a tasty side of bacon by the timely appearance of Hermes, who advises him to eat the plant Moly. Likewise, Odysseus loses only six men – as opposed to all of them – by following Tiresias's advice to navigate Scylla's, as opposed to another monster's, foreboding waters, and is free to continue on his journey afterwards. The lesson here is very simple: give good, knowledgeable relocation advice, taking into account – and making your employee aware of – the benefits and drawbacks of every possible option. Hermes, knowing Odysseus was in danger of being turned into a pig, made himself available and helpful at the opportune moment; Tiresias, aware that any path Odysseus took would end in some sacrifice, advised our hero to take the way that would cost him the least. Stay on top of current deals and prices related to relocation, and consult with any moving services associated with your company to discuss possible discounts. Better yet, direct your new hire to the HR department or a mobility professional (such as UrbanBound) for further beneficial advice, and avoid those pesky monster-related disasters.
Don't forget about managed lump sum packages! Like the sirens who sang to entice Odysseus and his men to wreck on the rocks, and the delicious allure of the god Helios's cattle on the island of Thrinacia (the eating of which led to the death of every single one of Odysseus's men), your employees are going to be bombarded with seemingly economical, tempting relocation deals from every side. If you just hand them a lump of cash and walk away, they will undoubtedly run their ship aground or eat that sacred cattle – instead, hand them the ability to successfully navigate treacherous waters by providing valuable direction and information about how to best spend their package. Employees should be provided with information about the best relocation prices and services, and resources that will help them plan out future expenditure. This way, your employees get the most out of their lump sum, and won't be tempted to make unnecessary purchases (or eat those cattle!).
At one point in the Odyssey, Odysseus's crew is gifted with a bag containing the "bad" winds that are preventing them from reaching Ithaca. The crew proceeds to open the bag, releasing the winds and causing the ship to be blown right back to their starting point. Don't assume that new employees know not to open that bag of winds when relocating – without proper direction, naïve first-timers absolutely will! Employers who communicate with their employees throughout the moving process, offer good advice, and give guidance when dispensing lump sums end up with a happily relocated employee. Luckily, UrbanBound's app allows you to stay connected with your relocating employees. After all, any employee can make it to Ithaca: they just need a little assistance from you!