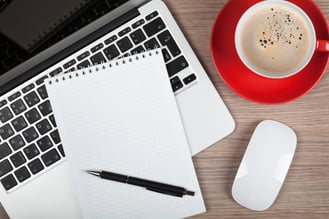 How is your company communicating your relocation policy benefits to your employees? Are you providing information by email? Verbally? In the offer letter?
If you answered yes to any of these methods, it may be time to consider writing a formal relocation policy. A relocation policy helps standardize the process of relocation for your internal teams and your relocating employees. It helps your relocating employees prepare for their move, establish internal processes for distributing benefits, and can even reduce questions back to you and your team.
But where do you start?
Good news—we're here to help! We've got three tips to help you get started writing your company's first relocation policy:
1. Start Early
Creating a relocation policy isn't something you can do overnight. Employee relocation involves a number of different roles, and writing the policy is only one part of the process. You'll need to get approval from various groups (such as senior leadership), ensure your payroll and/or finance teams are equipped to distribute the benefits, and communicate the new policy to hiring managers.
Starting to build your relocation policy early is key in making sure your company is prepared to handle a relocation. Consider starting the conversation about relocation with key stakeholders now, even if you don't have an employee currently moving through a relocation. As with most things, a good starting point is research.
Understand the relocation benefits your competitors are offering, which benefits your company wants to (and can afford to) offer, and then you can start putting your policy into writing.
2. Set clear expectations about what, when, and who
Once you have decided on which benefits to offer, you can start documenting your policy. A relocation policy should be an extension of your organization, so consider using the same writing style that's used in other company communications and documents. Just be sure to balance this with using clear, direct language that's easy for relocating employees to understand.
A relocation policy should clearly state what benefits are being offered, when the employee will receive those benefits, and who they can reach out to for assistance. For example, let's say your company has decided to offer a lump sum benefit. The relocation policy may read like this:
You will receive a $12,000 lump sum stipend to be used for miscellaneous moving expenses. This lump sum payment is considered taxable income. The company will provide tax assistance for federal withholding, state taxes, FICA, and Medicare. The lump sum payment will be distributed three weeks before your start date with Acme Company. Please reach out to jane.doe@email.com with any questions.
This is a simple policy, but it clearly states what the employee is receiving ($12,000 lump sum with tax assistance), when they will receive it (3 weeks before start date), and who to reach out to for questions
3. Plan for the future
Finally, keep in mind that your relocation policy will probably change as your company grows. The policy that works now for your new hires may not be scalable when you need to recruit or relocate a senior manager or executive-level employee. To prepare, consider building flexibility into your first relocation policy.
If you're planning to offer a lump sum, for example, consider setting different tiers for different populations of your employees. Even though a new hire and a senior manager both receive a lump sum, that doesn't mean it should be the same amount.
A core/flex approach to relocation is also a great option for growing relocation programs. With a Core/Flex Policy, relocating employees are eligible to receive a number of core benefits, such as the cost of their household goods move, in addition to a stipend (or lump sum) for miscellaneous expenses. Core/Flex Policies allow you to provide different benefits to different populations without restructuring your entire policy, and it's completely scalable as your relocation program grows, because most of the legwork is already done. A new-hire may receive a household goods move and a $2,000 stipend for miscellaneous expenses, while a senior manager receives a household goods move and a $10,000 stipend for miscellaneous expenses. You can adjust these however you see fit.
Whether your company is just starting a relocation program or you need to put your current benefits in writing, creating a relocation policy now will help you execute successful relocations in the future. Use these tips to get the ball rolling and be sure to check out the UrbanBound Resource Center for more helpful information on relocation policies!
Note: The policy sample above is only an example and should not be considered a template for creating a relocation policy.
Stay up to date
Subscribe to the blog for the latest updates