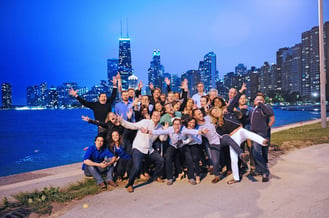 UrbanBound is excited to announce today that we've closed $8.5M in Series B funding.
This round, led by Romar Partners and joined by Moderne Ventures as well as existing investors Grotech Ventures and Starvest Partners, is a big step for our team and paves the way to a strong future for UrbanBound.
"UrbanBound continues to be recognized as the leading innovator of new technology for the relocation industry," said Michael Krasman, CEO and Co-Founder. "This new funding from incredibly experienced investors keeps us on path to achieving our vision of providing the best tech-enabled solutions for employee relocation."
We're proud and humbled as we look back on where we were as a company after our $5M Series A round in 2013. We were a team of 14, still trying to find our footing in the relocation space and understand exactly where we wanted the path of UrbanBound to go.
Now, with a team of over 40, we have a stronger understanding than ever before of where UrbanBound is headed and how it fits into the relocation industry. We know exactly what challenges we're aiming to solve and the voids our software is continuing to fill.
Scott Wald, Partner at UrbanBound's newest investor Romar Partners, explains, "The $60 billion global relocation market, which has remained largely manual and offline, is overdue for a comprehensive tech-enabled solution. Corporations are projecting a 50% growth in employee relocation assignments by the year 2020, and UrbanBound is positioned to remain the leader in filling the significant technology void in the industry."
We're excited to forge onward in the relocation space and enhance our software for our growing customer base, providing the most robust relocation software available. We plan to use our recent round of funding to:
Accelerate product development and pace of innovation

Broaden sales efforts and grow our team in our new Chicago office

Continue expansion of an already impressive client base, which currently includes many global industry leaders
All types of companies, from leading technology startups to the Fortune 500, are leveraging UrbanBound to relocate employees more efficiently and create significant cost savings, ultimately boosting employee retention.
"We are excited to be using UrbanBound's software to ramp up our University hiring relocation efforts," said Joy Osborne, Sr. Manager University Relations, Palo Alto Networks and current customer. "UrbanBound provides us with the solutions we need to prepare and relocate our University hires, playing a critical role in the success of our program."
Be prepared to hear a lot more from UrbanBound in the future, as we're prepared and excited to continue making waves in the relocation industry.
Check out other media on our round of Series B funding:
[Crain's Chicago Business] UrbanBound lands $8.5 million in new funding
[Chicago Tribune] UrbanBound raises $8.5M to better help businesses relocate employees
[Built in Chicago] With $8.5M in new funding, UrbanBound plans to grow Chicago office
[ITA—Illinois Tech Association] UrbanBound Announces $8.5M in Series B Funding
[ChicagoInno] New Money: UrbanBound Raises $8.5M Series B to Tackle $60B Global Relocation Market