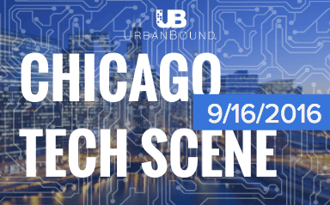 Looking for the top Chicago tech scene news?
You've come to where it's at!
UrbanBound's weekly Chicago tech scene blog brings you all the news you need to know.
From startups to funding rounds, from fun new tech to industry disruptors — we have it all.
Read on to find out the news you may have missed this week:
The Entrepreneurial Spirit Gets a Helping Hand
Entrepreneurs will be getting the helping hand they deserve!
The entrepreneurial journey — exciting as it may be — is also paved with uncertainty, blunders, and sometimes even business failures.
The newly announced Startup Rocket is here to help the brave innovators on their path.
"Startup Rocket offers a framework that serves as a comprehensive and practical guide for bringing a company to life," Will Little, Managing Director of Prota Ventures, said in a press release. "The framework was developed based on decades of startup experience within the Prota Ventures team. It is designed to help founders save time and avoid the common mistakes that plague most early-stage startups."
"There are plenty of resources out there that cover the topics that founders need to know in theory, but practical guidance through the nuances of building a business is hard to find," Little said in a press release. "Our goal is to help founders build upon the traditional business plan and ideation tools out there to focus on executing what matters – acquiring and retaining happy, paying customers."
The Health Tech You Want in Your Operating Room
It looks like many Health tech startups have found a home in Chicago.
The newest one, ExplORer Surgical, is poised to be the leader of operating room tech — "ExplORer Surgical has cracked open the "black box" of intraoperative surgical activity with its interactive workflow management tool," according to their press release.
"The operating room is the last large black box in the hospital, and we are ready to bring surgery information and analytics into the 21st century," CEO Jennifer Fried said in a press release. "We are excited to have support from institutional and angel investors knowledgeable in both healthcare and technology as we scale our company."
With ExplORer, surgeons can prevents delays & disruptions that arise due to missing or incorrect instruments, reduces instances of opened-but-unused disposable items, and captures granular intraoperative data in real-time, according to the press release.
"ExplORer Surgical has developed real-time, role-based mobile technology to bring greater efficiency and predictability to the operating room," SymphonyAlpha Ventures Managing Director Tom Carmona said in a press release. "During due diligence, we confirmed that ExplORer provided a valuable tool for hospitals that clinicians actually enjoy using. We are pleased to partner with ExplORer and to support the team in its efforts to eliminate wasted time and materials in surgery departments across the country."
It's a great tool to have in your operating room.
Wish there was more!? Check these articles out:
This startup says it can lower your legal bill [Crain's Chicago Business]
Chicago VC Firm Is Providing a Unique Means of Supporting Startups [Tech.co]
Tech roundup: Jai Shekhawat named Entrepreneurial Champion, this week's fundings and more [Built in Chicago]
Who caught the venture-capital wave [Crain's Chicago Business]
This startup aims to be 'Pinterest with pay' [Crain's Chicago Business]
Here's Why You Should Expand Your Startup to Chicago [Tech.co]
Allstate to bring 400 innovation jobs to Merchandise Mart [Chicago Tribune]
Amazon Plans to Open Chicago Bookstore: Report [NBC]
A Chicago Startup Is Making 'Uber for Airplanes' a Reality [Chicago Inno]
Self-driving cars? Not in our city, Chicago aldermen say [Business Journal]
Is Stranger Things real? Argonne scientist says yes, sort of [Chicago Tribune]