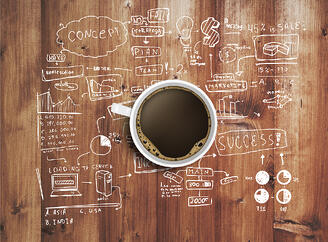 Starting out in a new career can seem overwhelming. There's a lot to think about in the immediate future, not to mention that you're trying to set yourself up to have longevity and health throughout the later years.
That's part of the reason that mentorship programs are becoming more and more popular within the corporate landscape.
Having somebody who has been there and done that, somebody who can share advice, successes, and failures, can be extremely beneficial to young employees.
What should a mentor do?
Mentorship isn't easily defined. It's not the same in every case, and there are a lot of variables that affect mentor/mentee interaction. The goal of a mentorship program is to provide young, budding employees with an experienced source of information.
A mentor should be somebody that has, not only done the same job as their mentee, but has succeeded, improved, and advanced in their field. You want to emulate previous success within your company, and mentoring programs can help make that happen.
A mentor is more than just a teacher, though teaching is a huge part of the role. A mentor is also a friend; somebody that you can go to for counsel in moments of uncertainty. You want your mentors and mentees to be able to openly discuss both the good and less good parts of the job.
Formal and Informal Mentoring
Formal mentoring programs have been around for a long time, but they've grown in popularity in recent years. In formal mentoring programs, mentors and mentees are matched up by the company. Most companies establish rules within their programs, and though those rules vary from business to business, most of them set aside a part of the week for the mentor and mentee to get together and talk about how things are going.
Informal mentoring is usually a more organically developed relationship. It can be encouraged by management, but it doesn't have to be. Sometimes more experienced employees just naturally want to help their younger, less experienced counterparts. It should be considered a good trait in an upper-level employee, if they're natural inclination is to be somewhat of a mentor.
Pitfalls
Mentoring sounds pretty great on paper, but make no mistake, it's a very involved and difficult process. There are plenty of ways in which a mentoring program can go wrong. It's a good idea to consider these pitfalls before making the decision to implement a mentorship program in your office.
Matching up mentees with the right mentor is absolutely crucial. Not everybody is compatible for this kind of relationship. It's not always plainly obvious who is right for the job, and it's ok if it takes some trial and error. That's why it's a good idea to put somebody in charge of your mentorship program, so that they can stay involved and make sure the exchange is a healthy one.
A successful mentor/mentee relationship involves a lot of trust. Your employees should be able to come to their mentor with practically any question or concern about the job. That's why it usually works out better if the mentor and the mentee aren't directly related in the chain of command.
If somebody has to report to their mentor on a regular basis, or their mentor is responsible for carrying out their performance evaluations, the mentee will be far less likely to engage them with the honesty that the relationship requires in order to be beneficial.
Mentoring can also involve breaches in trust. There's no law preventing mentor/mentee information from being shared. It's not illegal, but it is unethical. As long as you make it clear that your mentorship program involves complete trust, everything should be fine.
There are a lot of upsides to establishing a mentorship program in your company. They are believed to produce better quality employees, and they help with the onboarding process. It's no wonder that mentorship programs are on the rise in today's workplace, especially since they're considered particularly beneficial to Millennials. They may come with a few drawbacks or quirks, but the good generally outweighs the bad.
More Resources