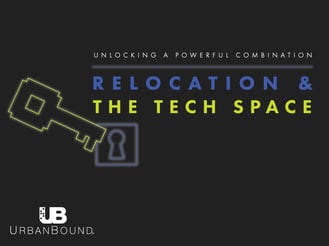 Think about your morning routine.
It probably goes a little something like this:
Turn off alarm.
Check time. Check phone. Check email. Check Facebook. Check time again.
Get out of bed.
Pick out an outfit. Check weather. Change outfit.
Check time. Check traffic.
We could go on...
The point is, we as a society are hyper-attached to technology. We use it from the minute we wake up in the morning to the moment we go to bed at night. It infiltrates our morning routine, our commute to work, our time at work, our commute home, and our nightly routine. It is a part of our personal and professional lives, and is big reason why the two can quite easily blur into one.
Don't get us wrong—technology is a beautiful thing, and it makes many areas of our day-to-day lives easier. Technology makes life more efficient, more interesting, and opens up a lot more possibilities.
Technology is infiltrating more areas than just our lives though, it's infiltrating (and changing) just about every single industry. There is really little to no choice of making this adaption either, otherwise said industries run the risk of falling behind and being overtaken by a company that is utilizing more advanced solutions.
Relocation is no exception.
More companies are relocating more people every single year, and as a result, the processes are becoming more advanced. We can now use technology to replace many of the aspects of relocation that were once high-touch and difficult to manage. However, there is a bit of a disconnect in the flow of communication between those in the relocation industry and those in the technology industry.
These two industries together have the potential to be a power-house. However, over time, the technology and relocation industries have matured in silos, forcing the two to operate on different terms, instead of in a shared space of collaboration and conversation.
This eBook will discuss why this separation has happened and what we can do to change the way we operate. After reading, you will have a greater understanding of the relocation and technology industries and how the two can begin to work together in order to accomplish a more wholesome experience for everyone.
As soon as we can break down the wall preventing an open flow of communication, we can, together, make the lives of others easier and more efficient.
And isn't that really everyone's goal?