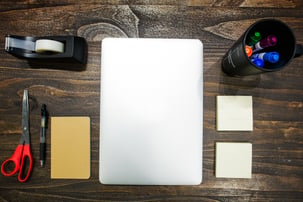 According to Harvard Business Review:
Nearly 1/3 of new hires look for a job within the first 6 months.
The costs of employee turnover are estimated to range between 100% and 300% of the replaced employee's salary.
It typically takes around 8 months for a new hire to reach full productivity.
The solution to these problems? Onboarding.
And by onboarding, we don't just mean walking your employees through the office and introducing them to the team. We mean in-depth training (both industry-specific and job-specific), goal planning, future roadmapping, education, and a growth plan. Diving in and getting really specific with what your employee can expect in the next few months will help set their expectations and open up the door for communication.
Onboarding is not something that companies can afford to gloss over anymore, especially with the above statistics being a truth many employers have a hard time dealing with.
22% of companies say they have no formal onboarding plan, and 49% believe their program is only somewhat successful. Yet research proves that onboarding is the most critical time in an employee's journey.
So why aren't we paying more attention to it?
"We don't have time!" or "We don't know how!" are simply unacceptable excuses, especially because there are dozens of companies out there that have dedicated their livelihood to helping you with just that.
Take Yoi, an onboarding tech company, for example. Yoi's platform, similar to many others out there, "offers access to an ever-expanding catalog of aggregated high-return practices and assessments, which measure how effectively the new talent is being onboarded. Managers also have the ability to customize the delivery of these assignments and assessments, as well as the language used, via templates for each and every new hire."
These companies have developed a digital solution that allow employees to "grow in a more practical, actionable manner." The main goal of these onboarding programs is to drive up employee engagement and thus directly increase employee tenure—a goal every company should be interested in achieving.
Transferring high-touch, high-involvement processes (such as onboarding or relocation) into these types of platforms is extremely effective. Not only does it ensure that every single employee receives the same amount of attention and guidance, but it provides a more wholesome experience. Software, unlike people, doesn't run into the problem of having a busy day, resulting in some people getting a condensed version of onboarding. Everyone single person gets the exact same experience, no matter what day or time of the year.
The benefits reach across all channels, too. As explained by HBR, "these platforms are also helping to assure managers and HR alike that new hires are hitting all the necessary benchmarks, while providing a much more consistent onboarding experience — especially for teams working in remote locations. It also helps to increase transparency, while streamlining communication between managers and new employees."
One thing that is important not to lose sight of though, is the importance of the human touch. We talk about this in relation to many different areas of business, relocation included. While tech can solve a lot of issues and improve a lot of processes, it doesn't mean that the human element needs to disappear entirely. Having the ability to reach out and get real-time feedback (from a live person) is sometimes a very important tool that employers shouldn't lose sight of.
There is a healthy balance between the two that companies should strive to find. Once that balance is achieved, you'll see a reduced work-load on the HR side of things and an overall more positive employee experience, resulting in higher retention rates.
See, technology can solve (almost) anything!