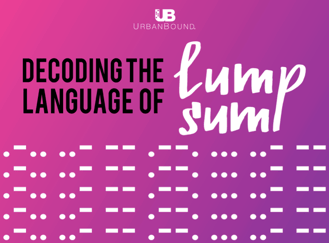 You've heard our spiel before.
Lump sum this, lump sum that. Core/flex this, core/flex that.
You're probably thinking, "Enough! We get it."
And maybe you do. But, there is a method to our madness.
We discuss these topics so much because they are so important. Not only are they important, they are so complex. And, the more we talk about aspects of relocation in different ways, shedding light on different areas, the more we can get people in the industry giving their own personal insight and opinions.
We can digest more education on what other people are doing. What other people have seen to be successful. What other people have seen to be unsuccessful. What their favorite strategy is. What their best practices are. There is so much to learn, and we want to be a part of that learning experience.
Which is why today...we're diving into lump sum! Again!
Lump sum is the most popular form of relocation reimbursement, representing 70% of the reimbursement options companies use.
That is why it is so important to offer it in the right way. The guided way. Whether you choose to use a traditional lump sum, a flexible allowance plan, a capped allowance plan, a lump sum with an RMS, or a core/flex relocation policy (an approach that is currently revolutionizing lump sum), there are different ways that each of these policies can be used (and improved).
Click through our slideshare to learn about some of the things we have uncovered about lump sum and how you can best implement these policies at your company:
Craving more information about lump sum? (Who isn't!?) Check out our eBook diving even deeper into this topic: