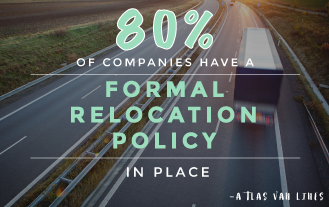 It's that time of year again!
Atlas Van Lines recently released their 49th Annual Corporate Relocation Survey Results and it was chock-full of information spanning topics from relocation volume and budgets all the way to international assignments and spousal support.
The survey is anticipated by many in the industry, and it certainly did not disappoint!
There is a ton of valuable data collected and uncovered in these surveys each year, and while it's important to look at the information from an annual perspective, it's equally important to refrain from isolating the information to just the 12 months it's collected in.
Take a look at year-over-year differences (here's a guide to get you started) and see which areas experienced the most drastic changes and what might be causing those shifts. It might take a little more time, but you'll glean valuable insights that support the ability to make predictions for future trends as opposed to just looking at the trends with a more retroactive lens. Atlas has been conducting relocation surveys since 1998, so you have a lot to work with!
That being said, we compiled 4 of the most surprising stats from the survey and what made the stats so interesting. (Remember that all information is based on 2015 data.)
1. 38% of companies with 5000+ employees relocated 400 or more employees last year
This chart was segmented by number of relocations and company size, spanning employee populations from below 500 all the way to 5000+, and the above percentage was the one of the most significant and largely represented figures in chart—meaning good things for relocation!
In fact, only 3% of total companies surveyed didn't relocate anyone in 2015, and 26% relocated at least some employees.
The majority of respondents fell somewhere in the middle and were largely influenced by company size (meaning the larger the company the larger the number of relocations), but most companies are continuing to lean towards relocation rather than away from it, indicating a positive trend for relocation and the power it has on a company's success.
2. 55% of employees who declined relocation did so because of a spouse's/partner's employment
The number of rejected relocations is something that we expect to see from year to year, but we tend to breeze over it and default to the idea that rejection is on our employees, not a result of anything we did.
Wrong.
The number of declined relocations is a figure that employers do in fact have control over, and that control begins with how you present, tweak, and frame your relocation policies.
Yes, some employees are going to reject your relocation offer. And, more often than not, the rejection stems from one of two places: It can be a result of personal reasons, or it can be a result of the offer itself.
While we can't necessarily control the personal side of the coin (which happens to take the cake in this survey with familial ties/issues being the #1 reason for declined relocations), we are in control when the rejection comes from a professional standpoint.
In fact, over half of factors mentioned in the survey are in the employer's control, such as:
Spouse's/Partner's Employment: 55%
No Desire to Relocate: 41%
Housing/Mortgage Concerns: 32%
Cost of Living in New Location: 29%
Job Security Concerns: 15%
All of these reasons can (and should!) be addressed in your relocation policies to ease your relocating employees' minds. The more information they have, the better. If you can help them understand why you are relocating them, what it means for their future with your company, how you are going to compensate them, and what they can expect, you open yourself up to a much better chance of your employees at least being willing to discuss the possibility of relocation instead of immediately shutting it down.
If your employees are all rejecting your offer because of spousal reasons, it might be time to look into offering spousal support, spousal assistance, or services that help acclimate families to new environments. There are so many resources out there that you can offer employees, all you have to do is find where your gaps are and then seek out solutions to fill them.
As far as those rejected offers go, use them to your advantage! Start by collecting data on which cities (both origin and destination) often lead to the most rejected offers, and then dive into every piece of information you can get your hands on.
Learn more about how your team is presenting that offer, who you are presenting the offer to, what level the employee is, what the language looks like in the offer letter and relocation policy, the benefits offered, how those benefits are distributed, and so on.
Using data to drive decisions in the relocation space will provide a more predictable future that's a direct result of decisions backed by fact rather than conjecture.
3. 80% of companies (on both domestic and international level) have a formal relocation policy in place
Ah, relocation policies. One of our favorite topics.
Atlas does a great job diving into this section and provides a lot of insightful data on instances where policies may or may not have been provided and how that changes from a domestic to an international level, a short-term relocation to a long-term relocation scenario, a new hire to a seasoned employee/executive, and many other cases.
The statistic we identified here is one we are excited to see on the rise—80% of companies on both the domestic and international level have a formal relocation policy in place to support their relocations.
Remember: "Formal" doesn't have to mean difficult terminology or exhaustive language. It simply means that employers have some kind of document that guides employees through their relocation and helps them understand the benefits they'll be receiving and how to claim those benefits.
A strong relocation policy is the first and most important step in refining (or even in starting) your relocation program. It's critical to the success of your relocations, and not having a structured policy can result in big problems down the line.
You can build your relocation policies using a tiered approach, that way they scale with you and provide an easier transition to a heavier relocation load in the future. In fact, 66% of companies had 2 or more tiers within their domestic relocation policy (62% had 2+ tiers on the international side).
4. Less than half of companies used lump sum to supplement the entire relocation
The use and purpose of lump sum has seen a significant shift over the past few years. We're making a pretty strong bet that a lot of this has to do with the growth of and access to relocation policies, coupled with the benefits of using direct bill methods versus a straight cash benefit.
According to the survey, only 44% of companies in 2015 used only lump sum to cover, or rather, offset, the cost of relocation.
However, lump sum isn't being completely tossed to the side.
Companies are leveraging other uses for lump sum, such as offering a cash benefit to supplement specific areas of relocation, rather than the whole thing. (The main reason a company would choose to do this is to take advantage of IRS relocation tax guidelines.)
A few of the areas employers chose to leverage a lump sum approach were:
Travel Expenses: 53%
Temporary Housing: 50%
Miscellaneous Allowances: 49%
Household Goods Shipping/Storage: 44% (Remember: this is tax excludable when using a direct bill approach)
Rental Assistance/Transactions: 25%
As you can see, there are a lot of ways companies can more strategically leverage a cash benefit instead of using it as a one-size-fits-all solution to supplement your employees' relocation approach.
These 4 statistics above are only scraping the tip of the iceburg. There is so much data that can be uncovered within this survey, and using data like this can dramatically help us make predictions and future plans for our company's relocation roadmap!