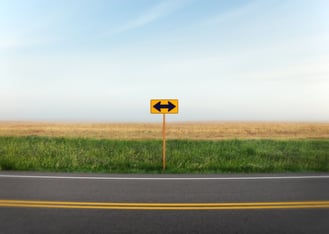 In today's hyper-connected world, it's easier than ever for individuals to search for information, connect with companies, and purchase products and services online. With the click of a button, an individual can find an answer to any inquiry they have.
With this much information at our disposal, it's not a question of if there is an answer available, but is it the right answer?
The difference between these two questions is critical, especially when it comes to researching relocation suppliers, destination information, and moving advice. It's easy to find information about relocation, but it's much harder to pare down the available resources and identify what is most relevant to each individual.
In short, relocating employees are faced with information overload.
While you can't (and shouldn't) limit the breadth of resources available to your employees, you can implement changes to your relocation program that arm your relocating employees with more contextual information that adds clarity to the relocation process, as opposed to overcomplicating it.
Step 1: Simplify Your Relocation Policy
A successful relocation starts with a strong policy. A relocation policy should always answer 3 key questions for relocating employees:
What benefits do I receive?

How do I claim those benefits?

When do I receive the benefits?
A relocating employee should be able to read their policy and be able to answer these questions easily. If that's not the case and you find yourself consistently answering these questions, then you may want to consider simplifying your policy.
Remember, it's about getting the most relevant information into the hands of your employees, not providing them with so many specifics that they find themselves submerged in details.
Many companies tend to spend the majority of the policy real estate on the first question "What benefits do I receive" and neglect to answer questions two and three. Describing the benefits is helpful, but without understanding how and when to claim those benefits, employees are left confused.
Let's say you're offering direct bill benefits for household goods shipment and final travel. In the policy it's clear that employees receive assistance to ship their belongings and book a flight, but they don't have any information about how to book these services. This is a critical piece of information because direct bill benefits are paid for by the company and need to be booked by the company or a third party administering the benefits.
Being a proactive person, your relocating employee may take the initiative to find and book these services. Unknowingly, that employee just created additional work that could cost the company (and possibly the employee) additional time and money to sort out.
Your company's relocation policy should be a guide that employee's reference throughout their relocation. If it's constructed in a way that's easy to understand and answers their most basic relocation questions, then employees will be much more confident in planning their relocation.
Step 2: Connect Employees to a Trusted Supplier Network
Finding affordable, quality suppliers is one of the most difficult aspects to a relocation if the employee is not provided direction or guidance. This is especially true for campus hires and employees receiving a lump sum to relocate. These populations are often trying to save as much money as possible when relocating, meaning they are looking for the cheapest suppliers available.
It's at this stage of the relocation process that employees can find themselves lost in a sea of online information. They are looking for affordable suppliers, but aren't sure how to vet them for quality. The result typically falls into one of two buckets. The employee either "gives up" and chooses the cheapest supplier or spends hours and hours of time trying to research and evaluate suppliers.
Neither experience will guarantee a positive outcome.
Leaving employees to source and evaluate relocation suppliers can result in a poor experience in the long term for many reasons. Their "cheap" supplier may break several belongings or they may begin to question if all the work to plan the move is worth the position they're taking.
Alternatively, companies who provide employees with a network of suppliers to choose from can improve the relocation experience and drive down costs simultaneously. With a trusted supplier network at their disposal, employees can quickly and confidently choose a supplier that's best for their needs, without worrying about sacrificing quality.
The company benefits by taking advantage of group buying power. To increase group buying power and reduce time spent managing suppliers, companies often partner with a relocation company to manage the supplier network and facilitate transactions.
Step 3: Use a Proven Process
Certain benefit types can also make it easier to ensure employees are exposed to a proven relocation process that doesn't require tremendous amounts of information gathering and research. Specifically, direct bill benefits make it simple for employees to understand their benefits (assuming the three questions are answered), connect with a supplier network, and use their relocation benefits appropriately.
Because direct bill benefits are paid for by the company, employers can dictate which relocation services are eligible for direct bill and the employees must leverage the company's supplier network. Technology-driven direct bill solutions can even consolidate supplier information and estimates online to offer employees unparalleled access to the information that's most relevant to them.
Whether you choose to offer direct bill benefits or not, having an established supplier network can make one of the most challenging aspects of a relocation easier. Employees have the information they need to make a decision at their disposable, instead of paging through endless search results online.
Equipping relocating employees with clear-cut, prescriptive information can help them more easily prepare for and manage their relocation. Depending on your company and policy, you may want to offer relocating employees with flexibility, but that should not be confused with ambiguity.
Relocating employees, especially first-time movers, are looking for guidance and support throughout their move. Providing a proven process with access to tools and information that are most relevant to their situation will ensure their relocation goes off smoothly and successfully.