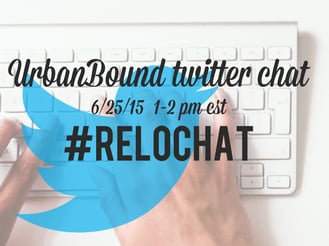 If you've been paying any attention (which, hopefully you have been!) to what we've been talking about over the past month or so, you'll know that we've been placing a lot of importance on the communication between the relocation and technology industries.
We all share an equal responsibility in paying attention to technology in the relocation space, and how it is best applied to make the relocation process better. It is up to everyone to allow the gates to open up, the wall to come down, and to encourage free conversation to flow between all parties responsible for executing relocations.
Unfortunately, this critical step is one of the most difficult to execute.
But we're going to try.
UrbanBound is going to open up the lines of communication by hosting a twitter chat on June 25, 2015 from 1-2 pm CST. The more people that join the conversation, spanning any job position from a variety of industries, the better! Different perspectives, different experiences, and different viewpoints help to diversify the conversation and propel the development of new ideas.
Let's back it up a step though and explain what we're actually talking about.
What Exactly is a Twitter Chat?
Great question, we didn't know either when we first heard the term.
A twitter chat is just an online forum, hosted on Twitter, for people to discuss a shared topic during a set timeframe. There are a series of questions of 4 or 5 questions that are asked to spark conversation, and the participants answer the questions, discuss different points of view, and interact with one another on the topic.
The conversation is followed along by a common hashtag, which you can type into your search bar to begin following along. Then, as soon as you see a topic in the chat you want to chime in on, a point you want to address, or a question you want to answer, tweet it (and don't forget to end it with the hashtag)!
In this case, the hashtag associated with UrbanBound's twitter chat will be: #ReloChat
The hashtag each time stays the same, but the topics typically change. (There are hundreds of twitter chats that happen every week, so for any of you looking to cut your teeth before the 25th, join one beforehand to get a feel for the process!)
What Does a Twitter Chat Look Like?
If you use a site like TweetChat, it highlights each question in yellow, like shown below, and any questions get automatically tagged so they are easy to find in the stream of conversation. You can also choose to just use your regular Twitter account and type the hashtag into the search bar and follow along that way.
There is one moderator (which will be UrbanBound on June 25th) who asks questions. It looks like this:

Then, the participants in the twitter chat can answer questions, give comments, or engage in conversation with other users in the chat. This is shown below:

It can be a little overwhelming at first with the constant stream of conversation, but you'll get the hang of it!
The topic that we'll be diving into on the 25th is going to be about relocation and the tech space. (Shocking!) We'll throw 5 questions out to our audience, and then leave it up to you guys to take the conversation from there.
Want to join in on the fun? There is nothing to register for, just show up and start talking!