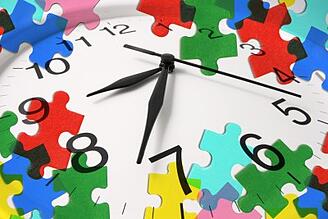 Throughout the United Kingdom (and informally in a few stateside corporations), employees are being given the ability to negotiate their own schedules with their employers.
This includes establishing start times that are conducive to personal productivity as well as keeping any telecommuting and job share options open and available, should that employee's need arise.
Of course, this idea of an entirely personalized schedule, particularly without penalty of dismissal or demotion, is attractive to any employee, especially to caregivers or those with highly demanding personal lives (for example, having health issues that may possibly introduce complications to scheduling; regular partying on the weekends doesn't exactly qualify here!).
We've already mentioned the importance Millennials place on the ability to mold their own career in previous blogs—remember, the majority of Gen Y workers are looking for jobs that will allow them to stand out as individuals, be creative, and permit a certain amount of flexibility (especially in terms of scheduling) in the workplace.
Now, maybe your company has already implemented a policy or two that allows for personal scheduling negotiations to take place between employer and employee. If so, you're ahead of the amenable-workplace curve—a curve perfectly incarnated in a certain controversial piece of legislation called the Family-Friendly Work Ordinance (FFWO), which is presently being debated by the San Francisco Board of Supervisors in the hope that it will qualify for inclusion on November's ballot.
This bill, put forward by Board of Supervisor President David Chiu, is a proposed flexibility ordinance that would mandate employers to negotiate and reach an agreement with employees on their own personal schedules, via providing the ability to adjust start times, telecommute, work part-time, and job share. Essentially, employees (especially caregivers) seeking a schedule change will be able to fill out a standard request form to be reviewed, discussed with, and finally approved by their employer.
Any request for modification has to be seriously considered by the employer, and a mutual feasible agreement must eventually be reached; an employee who feels as though their request has not been considered properly will reserve the right to sue the employer in civil court, with incurred penalties including the payment of fifty dollars per day, back pay, and repayment of benefits to that employee.
All businesses that regularly employ ten or more people will be included, and flexibility requests can only be denied if the scheduling change creates an "undue hardship" by increasing costs or making it difficult to meet customer demands. Finally, and perhaps most importantly, requesting a scheduling change cannot be met with any penalty, such as demotion or termination, within the workplace.
Basically, the Family Friendly Work Ordinance mandates flexible workplace scheduling for all employees, hoping that, as its name suggests, workers with families will benefit from it. While this may not seem like a particularly revolutionary idea—especially in the modern, gradually Millennial-infused market—the proposal has caused a major uproar in San Francisco.
However, no matter where you stand on the subject of workplace flexibility, iit's a good idea to examine the implications of this proposal and what they reveal about the competitive, modern market and growing Millennial workforce.
Let's begin with what this proposed ordinance has revealed about the employees of today. First, the fact that mandated flexibility is being called for is enormously significant—workers are impatient for a formal process that will legally allow them to expand their scheduling options without any discernible penalties. The modern employee doesn't just want flexibility—he or she needs it.
Employees want to be offered the opportunity to propose creative, mutually beneficial schedule alterations, both to accommodate their personal lives and to be as individually productive as possible, whether that means working in the office or over the phone.
Don't be nervous! Your employees aren't looking to do less work, they're looking to schedule their time in a way that will allow them to do their best work. Part-time, compressed schedules, telecommuting, and job sharing works, and can work well—any well-designed, well-managed schedule that makes it possible to produce the expected results will work to the greater benefit of both employer and employee.
So how will this influence potential Millennial employees of tomorrow (or newly today)? Well, in short, flexibility is attractive. A company that mandates 9-to-5 attendance all 250 business days of the year isn't going to get the same attention from Millennials as a company that mandates the same amount of work and productivity, but within the boundaries of a schedule that employees are able to set themselves. If you're looking to integrate more Millennials into your company's workforce—and as they are a mostly untapped pool of tech-savvy potential, you should be! offering workplace flexibility is going to be a huge draw to any Gen Y worker.
Like it or not, flexible scheduling is a highly-desirable, quickly-spreading policy throughout the modern workforce, clearly shown by President Chiu's call for mandated, citywide workplace flexibility in San Francisco. Driven employees who are permitted to determine their own schedules often make the most creative, productive use of their time. Your employees want to work—they just want you to work with the.
(To view the official ordinance, visit: http://sfgsa.org/modules/showdocument.aspx?documentid=10412.)