Packing your favorite belongings and trusting somebody else (or even yourself) to make sure they arrive safely at their destination adds stress to an already stressful process. When those items are also your most expensive, everything is magnified. That's usually the case when it comes to packing and moving your technology. Things like TVs, computers, and stereo equipment are often our most-used and priciest-to-replace items, so it makes sense to take extra care while packing them. The problem is, many people don't know how to pack them properly. Just one minor misstep can result in a scratched screen or broken part that will eventually cost you hundreds, maybe even thousands, of dollars.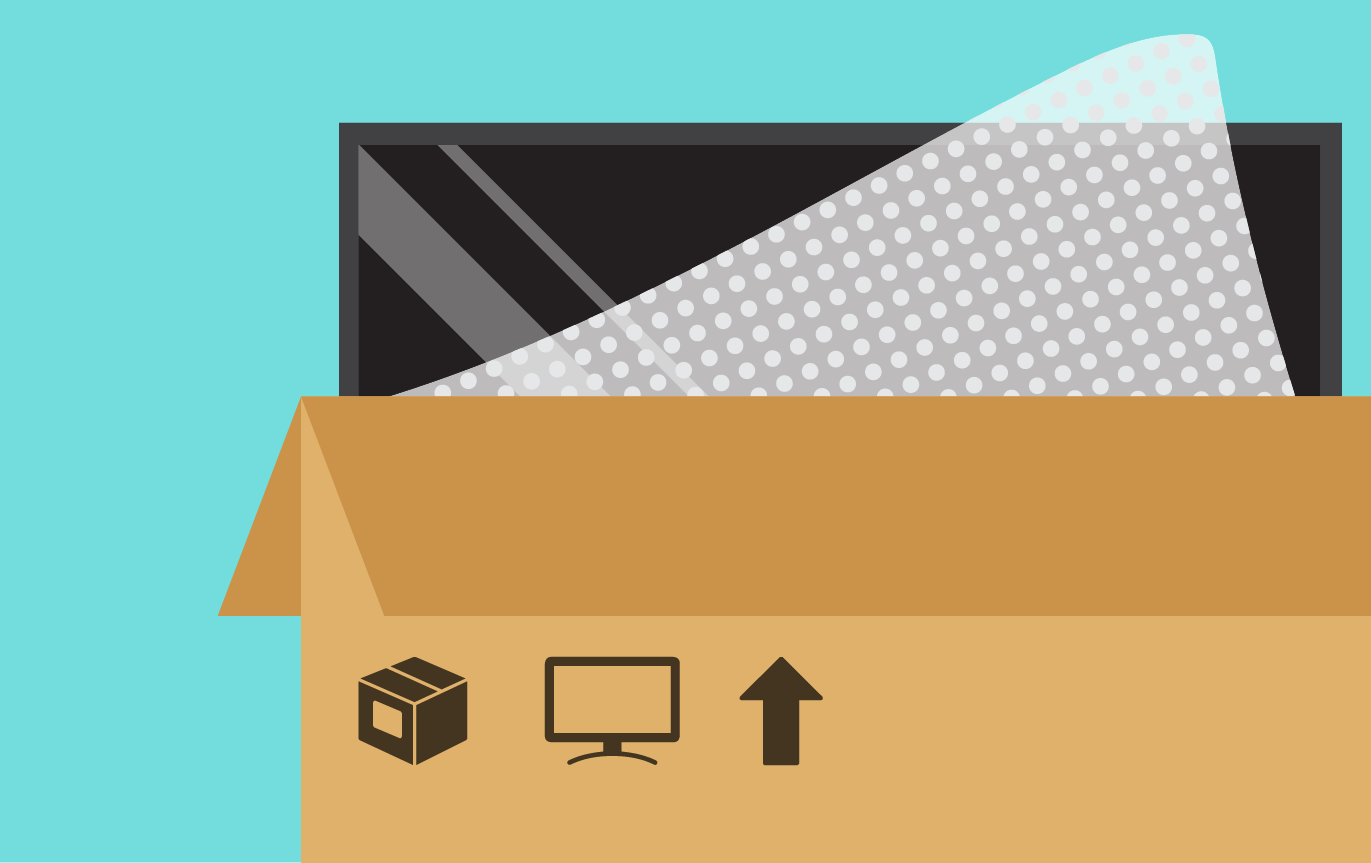 If you were fortunate enough to save an item's original packing material, that's great, but many of us simply don't have the space to keep boxes around. No worries, we're going to tell you how to pack all the most common pieces of tech so that they have the best chance of being safely moved from one place to another.
Televisions and Computer Monitors
Naturally, when we say TVs, we mean flatscreens. If you still have a tube TV, leave it on the curb. The most obvious part to take extra care in is the screen, but there are other parts you.
Make sure that all necessary cables are stored away safely so that unpacking the television will be quick, easy, and stress-free. Be sure to place them in the box that you will be packing the TV itself in, that way you won't have to look through other boxes to find them when you're setting the TV up in your new home.
The screen is undoubtedly the most fragile part, so covering that should be the first priority. Be sure to use something soft like a bed sheet, towel or even some shirts. Uboxes.com offers high-end heavy duty moving blankets for relatively cheap ($39.95 for a 2 pack). Any debris that you encounter on your move could easily scratch or even crack the screen, so be sure that the entire surface is adequately protected.
Wrapping the entire TV after the screen is covered will ensure the highest level of protection for your device. Start with a layer of bubble wrap that you can purchase from your local post office or UPS store. Use packing tape to be sure that the wrap job is just tight enough so that nothing shifts. Follow this with some heavy-duty moving pads that are likely to be supplied by your moving company. Once again, use packing tape to make it nice and snug.
Ask your movers to make a custom box for your wrapped television, especially for long distance moves where things are more likely to stacked tightly and shift more. If you weren't able to keep the box that the television came in, a custom-built box will add the final layer to a protective casing that will ensure that nothing happens to your valuable investment. Be sure to seal the box with tape, and label it as 'FRAGILE'.
It is also advisable to consider getting extra insurance just in case anything does happen during the moving process, most moving companies offer some form of this.
Computers
While desktops are slowly becoming less common than laptops, computers are another item that certainly require special attention. As with the television, there are several steps that should be taken to be sure that nothing happens to your valuable investment.
Backup your important files onto an external hard drive or disk to be sure that nothing is lost in the process in case anything happens that would cause direct damage to your existing hard drive.
After your files are safe, unplug your computer and keep the cords and other parts close by so that they can be easily accessed upon unpacking. Putting them in a ziplock baggy is a good way to keep them organized. Also consider labeling the cords with something to make the unpacking process less confusing, colored tape works well for this.
Use the technique described for the television to properly wrap the device snugly into a box with bubble wrap and/or styrofoam inserts. Again, the best option for a box is the one that it came in, but a box of the right size can certainly be found for a reasonable price at any post office or UPS store.
Be sure to seal the box tightly and label 'FRAGILE' so that movers know to handle the box with care. Often, boxes that do not explicitly indicate that the contents are breakable and/or valuable are handled as any other box. It doesn't take much mishandling to cause damage to the motherboard of your computer.
Since a computer is smaller than a TV, try to fit it in your car to avoid having the package handled roughly and to have greater control in transporting the device to your new home. This is good practice with any item that you are particularly concerned with being handled carefully.
If you're bringing a printer along, be sure to remove the ink cartridges as well as unplug any cordage that is included with the device. Label the cords accordingly, indicating that they belong to the printer, and not the computer.
As with the television (and with any other valuable item for that matter), be sure that the device is insured, and consider getting extra insurance for the move just in case.
If you have to move other electronic devices, such as a speaker system etc... follow similar steps to the ones above, so that the device is entirely wrapped in a material that will buffer any falls and provide a snug fit into any box that you decide to put it in.
Moving is a tedious process, and making sure that all of your valuable belongings make it to your new location undamaged is a vital step in the process. By using the latter steps, you can be sure that your television, computer, or any other sizeable electronic device will safely arrive at your destination.