Stay up to date
Subscribe to the blog for the latest updates
3.) Ask for feedback, then revise.
One of the greatest tools at your disposal are your past interns. Using previous employees and members of your company will help you learn from your mistakes and understand things you can do better moving forward. You can do this by having an exit interview with each intern, sending out a survey afterwards, or simply having open line of communication throughout the internship experience to find out what is and isnot working.
We sat down with Arielle who interned for 3 years at various companies. She ranked the top 5 things that really stood out to her throughout her internship experience:
Everyone, regardless of being a full-time employee or intern, participated in online trainings about the company's history, values, and goals.

The CEO of the company had a Google hangout session with the interns for a Q&A before we all arrived—it made upper management feel approachable and more friendly.

I loved when a company would facilitate intern-mentor pairs and plan activities (bowling nights, drinks, yoga classes, etc.) It helped add an extra element to the internship experience that made it really valuable for me and my future goals.

One of the companies I worked with gave interns merchandise with the company name on it and credit to buy more if they wanted. This may seem small, but it helped establish brand loyalty for me and made me proud to wear my merchandise around the city!

I relocated for one of my internships and I received a very well planned out lump sum relocation plan. The lump sum was explained to us in great detail and our reimbursement was really comprehensive. Our intern allowance included housing, round-trip airfare, reimbursement for our parents to stay for a weekend during move-in and move-out, and a breakfast/lunch/snack stipend. I felt very well taken care of and valued at the company.
It's information like this that is so valuable as you move forward with your internship experience. In knowing what interns really found useful, you'll be able to refine your processes to include activities and experiences that are worth while. This makes the entire experience more productive for everyone involved.
4.) The last (but most important) piece: Offboarding
Like we said, interns are great talent pools for full-time hires at your company. You've already invested time, energy, and money into training them based on your company's needs. They most likely feel comfortable in your company's working environment after having spent several months with you, so why not take the plunge and see what this relationship can really be?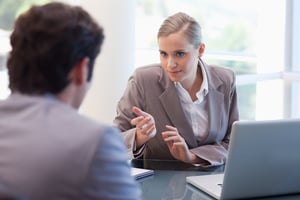 Chances are your interns have had a great experience working for your company, so it's crucial that their offboarding experience is just as memorable. Don't send them off feeling iffy about the whole internship experience. If you took our advice, you sat down with your interns when they arrived and defined certain things that they would likely be able to add to their resumes.
Now it's time to test yourself. Did you truly provide that experience for them?
Sit down with your interns to go over their experience as a whole. Ask them what they've learned and what they feel they can now offer to future jobs and experiences. Defining these new skills can be a very useful exercise for them, one that will give them the confidence and education they had hoped to gain from their time spent as an intern. In turn, you can promote these benefits to future interns.
To do this, create an offboarding survey that each intern fills out on their last day. It will help you understand what your company does well and what can be improved for future internship programs. This also gives your interns an opportunity to voice their opinions which will make them feel valued at the end of months of hard work.
If you valued your intern, chances are you'll want to stay in touch when future employment opportunities come up. Your interns want that too! Setting up a system for keeping in touch is great for both parties. Ask them what the best way is to do so—this could be anything from a quarterly email exchange to a Facebook friendship. Who knows? This could be the beginning of a long working relationship!