Chicago Relocation Services
Choosing Relocation Services in Chicago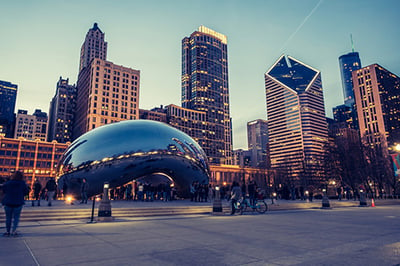 Moving to Chicago should be an exhilarating experience for your employees, from discovering deep dish pizza and exploring the lakefront to mastering the L. But, no matter how you slice it, moving ranks right up there as one of life's most stressful events—particularly when it's a move to a big, complex city like Chicago.
Getting to know Chi-town won't happen overnight. For starters, there are 77 neighborhoods, each with its own subculture—not to mention the surrounding suburbs. So, how does a relocating employee determine their best match, especially from afar? Or find the best schools? Learn the best way to commute to the Loop? And…is it really that windy?
Of course, you're invested in providing your people with a smooth, successful relocation experience. You may already offer a generous lump-sum relocation allowance. But your Chicago-bound employees need more than that!
Employee Relocation systems help to handle the many logistics associated with moving, starting with access to vetted realtors, movers, and other moving suppliers. They also need a real-world primer on life in Chicago, so they can make smart choices and get the most for their relocation dollars.
When HR Handles Corporate Relocation Services
Many companies rely on their HR department to handle relocations, but this is rarely an ideal solution. Case in point:
Recruiting, onboarding, benefits, payroll…most HR departments have very full plates already. On top of all that, do you really want to saddle them with the nitty-gritty, time-sensitive tasks like identifying Chicago's top realtors?
Unless your HR pros are experts on moving logistics, they face a steep learning curve. Managing relocations requires specialized skills—and you can't afford to have details fall through the cracks.
Even if your HR person hails from the City of Big Shoulders, do you want the success of your employees' relocation resting squarely on hers?
For all these reasons, partnering with a next-generation relocation management company like UrbanBound offers a better way.
UrbanBound's Two-pronged Approach to Relocation Services in Chicago
When you trust your relocation program to UrbanBound, we'll ease that move to Sweet Home Chicago and everywhere else. Our two-part approach lifts the burden off both employees and HR. We ensure every detail is properly handled while providing you with updates regarding each move's progress, as well as program-wide financial reports that keep your business in control.
How do we do it? Through our two-part, proven relocation process:
Part 1: UrbanBound's Award-winning Employee Relocation Technology
Our user-friendly software guides employees through every step of the process: choosing pre-screened suppliers, booking services, tracking expenses, etc. It also provides them with invaluable co-worker insights—firsthand tips and advice from their soon-to-be colleagues in Chicago about housing, commuting, things to explore and more. (After they complete their move, they'll get to add their input, too!)
It also allows HR to monitor each employee's activities and expenses, while providing employers with unparalleled oversight regarding their relocation program's performance.
Part 2: UrbanBound's Employee Relocation Consulting Services
As awesome as our software is, sometimes people need a personal touch. That's why every relocation employee is assigned a dedicated relocation specialist—their personal guide, sounding board and relocation counselor in one. Employees can receive as much or as little help as they like.
In short, we give your employees the best of both worlds—and isn't that what you want?
Take the Next Step: Reach Out
There's a better way to relocate your employees to Chicago, and we can help. Request a demo—see for yourself!