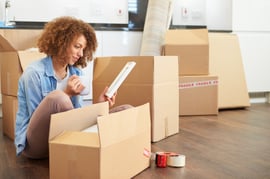 This is a guest blog post from one of our partners, TSI, a leading provider of shipping and moving services.
Whether your company is helping a new hire move or transferring an employee from one office to another, relocating your employees can be a big investment. Not to mention, it's also a significant investment for your employees; after all, they're moving their life to a new city in service of your company!
Contrary to popular belief, there's much more to helping your employees relocate than simply footing the bill—as an employer, there are many things you can do to reduce your employees' stress throughout the process.
Connecting your staff with a qualified, experienced moving or shipping partner can significantly lighten their load and will make it easier for them to concentrate on work without worrying about their upcoming move. But how can you tell whether a prospective moving or shipping partner is a good fit for your company? There are three factors to consider: flexibility, price and transparency.
Let's take a closer look at each of these factors.
Flexibility



As an employer, you don't know (and don't need to know) the details of an employee's move. Your employees will likely be moving a variety of household items, but some moving and shipping companies are only capable of handling certain kinds of items. This is why a

flexible

moving partner is key.


A flexible moving partner can handle multiple types of shipments, ranging from common household items like bulky upholstered furniture to heirlooms and antiques, as well as valuable artwork. This flexibility makes it easier for your shipping partner to create a customized solution that works for the employee (and your bottom line) without you having to worry about coordinating separate logistics for all your employees' belongings.
Price

When it comes to finding a quality moving or shipping partner, cost should never be your top consideration. Opting for the cheapest provider can signal to your employees that you don't care about their moving experience or about their treasured belongings. Remember, relocating employees are uprooting their life for your company, and it reflects well on your business to provide them with quality moving partners.

Of course, the cost of your chosen shipping partner will always factor into your decision. The key is to find a balance between cost and service. If your employee needs packing or loading services, access to storage facilities, expedited pickup, or other special considerations, don't settle with a partner based on a low price if they can't meet the actual needs of your employees.
Transparency


A quality moving or shipping partner will communicate openly through the entire shipping process, from taking the time to understand the items being moved and their related requirements, to providing an accurate quote and safely delivering your employees' belongings. When issues arise, as they often do, you want a partner that can deal with those issues quickly and with transparency and integrity. Where does this transparency matter most?
Quoting:

A trustworthy shipping company will be up front about the cost of a shipment, as well as any extra fees your employees may incur. As long as your employee provides accurate information about the shipment, including how much is to be shipped and any special considerations that may apply, the quote they receive should be the end price that is paid.




Transit:

The best moving and shipping companies will keep you and your employees updated on the current status of their shipment. When you're looking at a potential shipping partner, always ask

how

your employees will be kept up to date, as well as how they can get details on any delays or other problems while their belongings are in transit. It's important to remember that booking a move is very different from ordering an item off a large e-commerce site. Things change and the unexpected may happen—trucks are subject to road and weather conditions, mechanical issues, and much more. As an employer, it's important to be sure your employee will be made aware of any transit issues along the way.
Delivery:

Always ask a potential shipping partner about insurance—if they are unable to provide any information, this is a serious red flag. Insuring your employees' belongings against damage or loss can go a long way towards easing their minds and making their relocation as stress-free as possible. You should also ask what happens in the event of damage—a qualified shipping company will be able to clearly outline the process.

About UrbanBound's Network of Moving Partners
UrbanBound's relocation technology connects relocating employees to a vetted network of quality moving partners. Employees can easily request quotes and book services online from one central platform. Plus, employees benefit from group buying power and can also take advantage of UrbanBound's pre-negotiated discounts with most suppliers.
About TSI: A Shipping Partner You Can Trust


Flexibility, price, and transparency are all key indicators of a quality moving or shipping partner. With our extensive network of logistics partners and a commitment to excellent customer service, TSI can help relocate your employees and their belongings at a price that works for you. TSI specializes in long distance small moves and relocations, as well as shipping solutions for large, bulky, valuable and unique items.


Learn more about TSI's relocation services.
Stay up to date
Subscribe to the blog for the latest updates