A recent study from the trade group, CompTIA, found that 78% of tech workers are willing to relocate for a new job. With the majority of tech jobs still highly concentrated in the Bay Area, where the cost of living ranks among the highest in the country, this opens up a serious opportunity for employers located outside Silicon Valley to recruit top tech talent to their city.
Cost of Living: A Driving Factor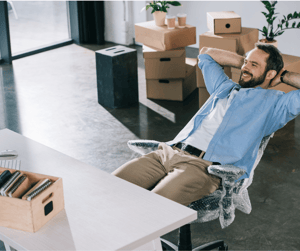 It's not surprising that the majority of tech workers are willing to move. The study also found that when deciding where to live, 82% of tech workers said that the cost of living was the top factor. Other considerations for determining where to live included weather, commute times and affordable housing. With much of the tech world living in the San Francisco area, where it may be known for its mild summers & winters, affordable housing options are limited (especially if short commute times are a top priority). It makes sense that tech workers would be open to career opportunities in places where their salary can go further.
Using Relocation Benefits to Your Company's Advantage
It's an exciting time for companies outside of Silicon Valley looking to grow their tech teams. Employers would be wise to leverage their company's location to attract talent. That means, educating tech candidates about a city's public transportation, culture, restaurants, outdoor activities, and housing market.
But it's important to go one step further. As we see tech jobs expand across the United States, outside of traditional coastal cities, companies must consider offering robust relocation benefits to move talent to new emerging tech hubs. UrbanBound CEO, Michael Krasman, stresses the importance of this:
"With the extremely tight labor market, especially in tech, companies who want to be competitive need to offer robust relocation benefits to attract the people they need. Fortunately, this comes at a time when the majority of this talent is actually willing to relocate. Ensuring that your company offers a relocation package that includes great hyperlocal information as well as access to destination experts who can help educate hires on their new city is extremely important."
This study proves the need for companies to consider relocation benefits as part of a company's talent acquisition strategy. Tech workers value an affordable cost of living, and luckily, the Bay area is no longer the only place for tech jobs. In order to be competitive and attract the tech talent you need, it's important to consider offering relocation benefits to your future employees.
About UrbanBound
UrbanBound is a modern-day relocation management company that is changing the way companies relocate employees. Through exceptional customer support, self-service software with real-time reporting, and flexible relocation policy building, we help companies offer competitive relocation benefits, regardless of their size and budget. UrbanBound is the tech-driven way to provide a personalized relocation experience to employees while optimizing your relocation budget. Request a demo today and start attracting top tech talent!