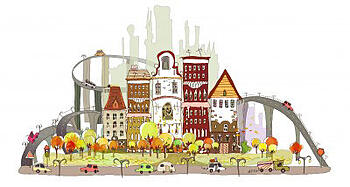 Hiring Millennials is important because they are the future of the workforce. In fact, some cities even offer awesome incentives to draw in Millennials to their city to work.
There are many cities around the U.S. who are taking big measures to attract the Millennials to their city to ensure that they keep attracting new residents and keep the city alive. As Mashable mentioned, the city of Niagara Falls will pay the student loans of students who will move to certain areas for work. They do this in hopes of revitalizing the area. There are plenty of cities out there that are willing to take great measures to attract Millennials.
Reinvent the City
Oklahoma City has reinvented itself to seem attractive to the Millennial generation. Mayor Mick Cornett of Oklahoma City has decided to take a few measures for the city. His first project is to install streetcars throughout the city.
In Omaha, Nebraska governor Dale Heineman hosted a National Governors Convention where he showed off downtown lofts and local restaurants in hopes of attracting people who otherwise would not have been attracted to Omaha, Nebraska. St. Louis has created a crowdfunding platform that generated ideas to better St. Louis called Rally St. Louis.
This gives young people the chance to say what they want to see happening in St. Louis to make it the ideal city for them and to then help make it happen. In 2009, people of Detroit created the Millennial Mayors Congress. This is a club that works to better Detroit's economy, schools, transportation, and social scene so that it can better attract Millennials to the city.
Make Millennials Come to Stay
Millennials are young people between the ages of twenty and thirty. In order to attract Millennials to stay in a city after they move there, cities must not only offer young, hip places for people such as concert venues and a young social scene, but they must also offer safe schools, and nice homes.
According to research, 4 out of 5 Millennials say that they want kids. So cities are competing with the suburbs to retain the Millennials in a few years from now. Half of the battle is to get young people to stay in the city once they move there.
Young people already flock to cities such as Los Angeles because of the hip culture it offers. Downtown Los Angeles is building large, family-friendly homes so that in the future, the Millennials will stay and raise families there rather than moving out to the suburbs as families often do.
Offer Best of Both Worlds
Grand Rapids, Michigan, is creating townhomes and lofts that will attract young people to the city. In just a few years, Grand Rapids went to a city with not much going for it to a city with a growing nightlife and art scene.
The city has been embracing this new popularity by building fitting accommodations for the hipsters who have been flocking to the city, while retaining the local suburbs and "smaller city" feel. Cities such as Minneapolis, Detroit, and Portland have been attracting young people for the same reason.
These cities attract young people because of the low cost of living (compared to large cities such as New York City and Chicago), The smaller fashion, art, and music scenes, and the greater possibility of success because of the smaller populations. These cities are constantly updating the surrounding communities to possess student friendly lofts and spacious homes while still offering the nightlife and unique feel that bigger cities offer.

Attracting Millennials is important for the future of most cities. Generation Y decides where they want to move to, then the jobs follow, not the other way around. So by making your city stand out and be attractive to Millennials, people will move to the city then companies will relocate to popular cities, thus creating jobs and boosting the economy.
First, however, Millennials need to be attracted to a city and it's up to the locals and government officials to do that. In addition to the techniques listed above, there are a few other things that are being done by cities to achieve this, such as personally reaching out to people giving reasons why they should live in a specific community and developing a community that people want to live in.
Check out our eBook about the millennial mindset for recruiting purposes, it will help you attract young talent in your industry!