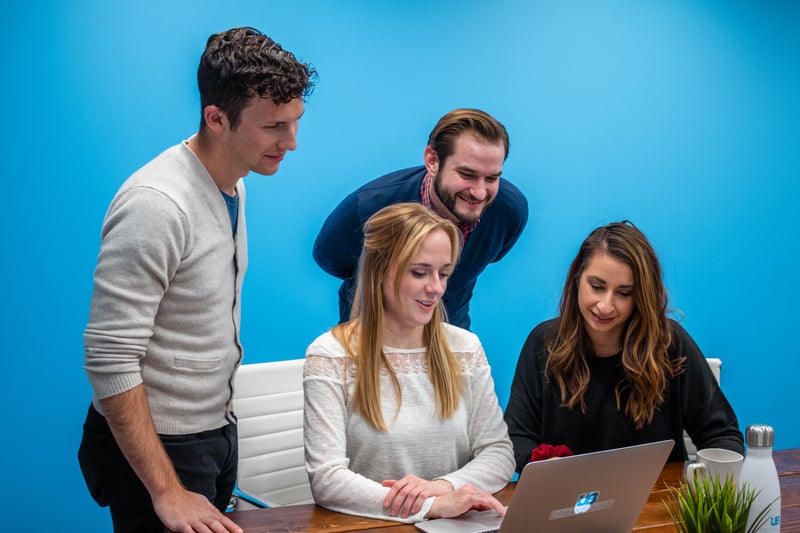 The COVID-19 pandemic has vastly changed the ways companies do business. For organizations that depend on relocation to execute their talent acquisition initiatives, crisis-driven shutdowns, border closings and stay-at-home orders have created unprecedented mobility challenges.
Even as relocation experts are recalibrating and problem-solving in real-time, they're contemplating what this will mean for the future. To that end, UrbanBound recently hosted a virtual roundtable of industry thought leaders. Our Cofounder Jeff Ellman asked them to share their struggles, victories, observations, and predictions—and wow, did they ever.
We are grateful to our roundtable participants, which included leaders from Intel, Zillow Group, Spotify, Illumina, Stryker Corp., Direct Supply, Gartner, Fresenius-Kabi, Brown-Forman, Dalton State College, Fiserv and Mohawk Industries, Inc.
Thank you for sharing your insights and experiences. For you and for everyone who missed out, we've recapped our 10 top takeaways here.
Takeaway #1: It's All about Choice and Flexibility
From considering more choice-driven relocation policies to moving to virtual internship programs, our roundtable participants recognized that flexibility is key to responding to the COVID-19 pandemic in an employee-centric way.
For example, early on in the crisis, a number of roundtable participants gave employees who are foreign nationals the option of returning to their countries of origin, covering flights and short-term housing costs, while offering guidance everything from taxes to benefits. The overall consensus: do whatever it takes to do right by employees.
In addition, several indicated that, in light of travel bans and social distancing requirements, they're honoring their summer internships, but they've transformed them into remote programs, providing stipends so interns can secure temporary work locations wherever they find themselves.
Takeaway #2: Employers Are Moving from Traditional to Tech-Based RMCs
Speaking of flexibility, some roundtable participants indicated they had been gravitating toward tech-based solutions even before COVID-19. Now, the related financial downturn has accelerated their thinking, because tech-driven platforms offer greater cost-effectiveness and process efficiencies than traditional relocation management companies do.
However, it was also noted that, in order to provide the best employee experience—especially with international moves—it's important to maintain a balance of high-tech efficiency and high-touch service.
Traditional RMCs have been hard-hit by COVID-19 as well. One attendee noted that her RMC partner put its consultants on a 50% work schedule due to plummeting activity.
UrbanBound side note: the relocation management industry has seen traditional RMCs lose market share to tech-based providers (like us) for the last decade. We expect that trend to accelerate as a result of COVID-19, partly because tech-based solutions help employers cut costs and partly because high-tech and high-touch are not mutually exclusive. (Little known fact: every relocating employee using the UrbanBound platform also has unlimited access to experienced relocation consultants.)
Takeaway #3: COVID-19 Is Changing the Way Employers View Relocation
Our roundtable experts were universal in asserting that the pandemic is transforming the way companies approach relocation. Furthermore, they believe this is just the beginning, speculating that:
Employers will weigh global relocations more carefully, program-wide and case-by-case.
Employers will lean more heavily on a remote workforce, resulting in fewer relocations but more business travel.
Should the emphasis shift to a remote global workforce, mobility professionals will be charged with sorting out the complexities, such as payroll and corporate tax issues. That's because they're already experts at "connecting the dots other people don't think of."
There will be consolidation in the relocation management industry, especially among traditional RMCs.
Takeaway #4: Cost Cuts Are Coming, to Mobility and Beyond
It was widely expressed that, as revenues dwindle in the months ahead, companies will explore and implement a wide range of downsizing strategies.
While the mobility departments represented at the roundtable have not experienced layoffs to date, they did acknowledge if the travel bans drag on, that day might come. They also noted that other companies have already laid-off or furloughed large portions of their workforce.
To lower relocation program costs, some participants are considering strategies such as tweaking relocation benefits, managing lump sum plans, and moving to tech-based relocation platforms.
On the bright side, at least two companies represented in our roundtable are continuing to hire and relocate talent during the COVID-19 shutdown. (Both are considered critical infrastructure.)
Takeaway #5: Border Closings Are Creating Hardship
Our roundtable expressed concern for global employees who are "stuck in limbo," as a result of sudden border closings. Some employers have secured short-term housing for relocating employees trapped for now in their origin countries, noting their household goods—and even in some cases, their pets—have already been shipped to the U.S.
Another variation on this problem: some foreign nationals working in the U.S. are running of time here, but can't extend their status. They can't be repatriated to their origin countries due to the closed borders, nor can they work at their employer's Canadian facility—once thought to be a solution—because those borders are closed too.
The longer border closings continue, the greater the anxiety for employees caught in the middle—and their employers.
Takeaway #6: Creating Consistent Policies Is Important
Several roundtable participants noted that they're reviewing their relocation policies and processes to ensure mobile employees are treated consistently
One employer has prioritized ensuring that global transferees have access to all the same benefits and technologies that domestic employees do. Another is focused on ensuring all relocating employees receive equal benefits—noting that ex-pats do talk to each other and will inevitably find out if someone received a sweeter relocation package
Takeaway #7: Lump Sum Policies Are Controversial
Our roundtable had a vibrant discussion on the value and role lump sum relocation policies. The group was largely in agreement that lump sum plans are best used at the low end of tiered relocation programs.
However, while some saw lump sum policies as a purely cost-savings move—one that can potentially compromise the relocation experience—others asserted that managed lump sum policies excel at offering relocating employees choice over how they spend their benefit dollars.
One recommendation was that lump sum policies be thoroughly benchmarked, ensuring benefits will cover actual relocation costs using high-quality movers.
(note: our Freeway product was developed to offer the best of both worlds: the cost-effectiveness and freedom of choice of lump sum benefits, plus the personalized experience of working with a live relocation consultant.)
Takeaway #8: Employers Are Tax-protecting Relocation Benefits
The employers represented in our roundtable have elected to gross up their employees' relocation benefits to cover their tax liability resulting from the Tax Cuts and Jobs Act of 2017. They do this across all tiers of their relocation programs.
Some also conduct a "true-up" reconciliation at year-end, especially for executive-level employees, to ensure employees aren't penalized financially for their decision to relocate.
Takeaway #9:Discard and Donate Programs Are a Win/Win
Several roundtable participants noted that they have had great success with discard and donate programs, which offer employees a cash sum as an alternative to moving their household goods. In one such program, 60% of relocating employees elected to sell or donate their belongings, take the cash, and purchase what they need at their new location.
Not only do employees like the programs—as one attendee noted, "cash is king"—but employers do, too, because it reduces damage claims and other headaches related to household good moves.
Takeaway #10: Priority One is Putting People First
Throughout our discussion, one theme remained consistent: despite the tremendous logistical and financial challenges created by COVID-19, mobility professionals will continue to find ways to put people first when they are relocating.
Yes, the relocation management industry is changing. Yes, their mobility programs will undoubtedly change, too. However, their commitment to do right by their employees and their families remains constant.
That's our philosophy at UrbanBound, too. Our tech-driven relocation management company modernizes the way companies relocate employees. It reduces costs by more than 25%--all while delivering an outstanding relocation experience. See what our customers say about us.
Stay up to date
Subscribe to the blog for the latest updates