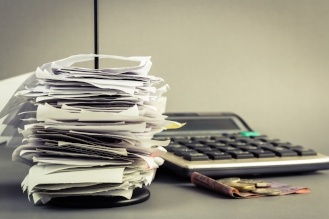 Payroll teams are the unsung heroes of your relocation program.
They are the co-workers who manage the reporting of relocating expenses and are responsible for coding and reporting each expense within a reasonable amount of time in order to keep the company in compliance with the IRS.
While this responsibility does sit squarely within their job description, they often face obstacles when it comes to things like understanding the relocation benefits offered, obtaining the appropriate expense information, or ensuring different teams turn in their information on time.
As the administrator of your company's relocation program, you can't fix every relocation-related challenge your payroll team faces, but there are steps you can take to help them accomplish their work more efficiently. Helping your payroll team create efficiency not only benefits them, but it can also save you time, and most important, contribute to a more scalable relocation program.
Here are three ways you can reduce the relocation-related administrative burdens of your payroll team.
1. Consider offering direct bill benefits to relocating employees
The type of relocation benefits you choose to offer can have a large impact on the amount of time and effort your payroll team dedicates to relocation expenses. The administrative impact on your payroll team will vary by the taxability of each relocation benefit you offer, as well as how that benefit is administered.
For example, lump sum benefits are considered taxable income to relocating employees. While this may seem like the most straightforward process, it can actually cause additional work for your payroll team. Because the benefit is taxable, your company will need to decide how to handle the tax treatment. You will either need to withhold taxes from the lump sum payment, or gross-up the liability on behalf of the employee. This process of withholding or grossing up is owned by payroll.
When administering direct bill benefits, there's an opportunity to take advantage of tax savings. Administering a direct bill benefit ] means your company pays suppliers on behalf of the employee for relocation services. When certain relocation expenses are covered by direct bill, they are considered tax excludable non-reportable — meaning these expenses aren't reported on the employee's W-2, which creates additional time savings for your ayroll team.
Several factors go into the decision of what relocation benefits to offer your relocating employees. You will need to decide what works best for your company, but don't forget that the there are implication for your payroll team, as well as for you and your relocating employees.
2. Utilize relocation technology to administer relocation benefits
Technology can help streamline the reporting process of relocation benefits — no matter which option you choose to provide to employees.
In the past, reporting on relocation expenses was a very manual, time consuming process. Expenses are typically tracked in a spreadsheet or offline format that must be managed and updated manually.
Administering benefits online through relocation technology means that expense data can also be tracked online, making it easier for you and your payroll team to access information. Instead of emailing files back and forth or waiting individual to input data, your payroll team can have one place to reference cost and expense data.
Technology, like Relocation Management Software, allows different team members to view and build relocation cost reports. As a result, your HR team can review the information that's most important to them while your payroll team can also have regular access to a report of the data they need effectively and efficiently reporting on expenses.
Consider exploring different types or technology or software that can alleviate the time spent manually collecting and compiling relocation expenses. Solutions like these can reduce administrative burdens for both your team and your payroll team.
3. Agree on the standard reporting process and stick to it
Once you've decided which benefits to offer relocating employees, and how technology will play a role in that distribution, the last way to reduce the burden of your payroll team is to put a reporting process in place. This process needs to be created with input from payroll, as well as any stakeholders who plays a role in the collection or distribution of the benefits.
For example, if you are working with a third party to administer direct bill benefits, you need to agree on how often the report of relocation expenses will be sent over. If this isn't solved by online reporting, then it's best to establish a regular frequency or cadence at which your team expects to receive the report. Your payroll team may want to identify other important dates, such as end of the year cut-offs, and other reports they will need, such as end of the year reporting.
Addressing these needs and key dates up-front can help reduce payroll's workload throughout the year. If everyone is aligned, there's less risk that payroll will have to track down information last minute. Establishing this process up front helps reduce your payroll team's workload, but can also help reduce your workload. If payroll needs to gather information last minute, they will likely be reaching out to the person who administers the company's relocation program.
As you create your relocation program, or make updates to an existing program, consider how you can reduce time spent on relocation-related tasks by your payroll team. Creating a more efficient process for administering and tracking relocation benefits helps you save time and money, and even reduces the risk the being out of compliance with the IRS. Use these tips as a starting point to make changes that positively impact your team and your payroll team!