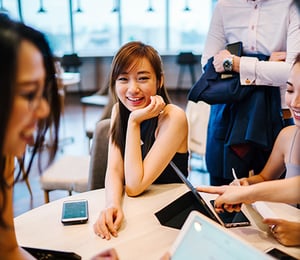 Not all corporate relocations are created equal. Nor should they be! When it comes to offering an employee a particular relocation package, savvy employers will weigh multiple factors, starting with the type of employee and their anticipated tenure with the company. The distance of a move, the transferee's needs, expected moving costs…these also should factor into the type of relocation benefits offered to employees.
As a result, one best practice relocation-savvy employers have adopted is to offer tiered relocation packages, scaled to different types of employees. Often, three appears to be the magic number. At UrbanBound, we're seeing a growing number of three-tier relocation programs, geared to three distinct types of employees: interns/entry-level new hires, mid-level professionals and C-suite executives.
Strategies for Relocating Interns and Entry-Level Hires
Moving interns and entry-level hires involves a unique set of circumstances. By definition, an intern is only going to work for you for a short period of time, typically three to six months. With entry-level hires, the job is permanent, but there's no guarantee of longevity—and plenty of turnover at this level.
Many campus hires and new college grads haven't yet developed the life skills needed to take on the complexities of a move, so they need some basic support. Their primary concern: finding housing and perhaps furniture. Since they're not buying or selling a home, what they most need is help choosing an appropriate, reasonably-priced rental—perhaps furnished—and possibly roommates to share the cost.
While providing an intern or new hire with money to move is important, it isn't everything. Many are single and inexperienced—and perhaps moving for the first time as an adult. While they will quickly grasp what relocation technology has to offer, the services of a relocation consultant can provide the additional guidance required to coordinate the logistics of moving. (Interns may also need assistance returning to their home city once the internship is over.)
Providing an excellent relocation experience to interns and entry-level hires is a great way to attract emerging talent—and UrbanBound is in a unique position to provide it. Our cutting-edge technology appeals to this generation (all the information they need may be found on our "Intern" dashboard: help finding roommates, company documents and all types of moving resources), while our skilled consultants can play an instrumental role in simplifying the process.
Best Practices for Moving Mid-Level Employees
Mid-level professionals have more complex relocation needs than newbies. Often, they're married, have children and may already own a home. Their move may well involve selling one home and purchasing another while transitioning the kids to a new environment. As such, they need more intensive relocation support.
Employees in this group generally have these priorities: choosing a safe, friendly neighborhood, identifying a sought-after school district, finding career opportunities for the relocating employee's spouse.
They require three-dimensional support from their employer, including access to experienced real estate professionals, packers and movers—as well as personal guidance and perhaps a sounding board as they explore new cities, neighborhoods and schools.
When professionals accept a position with your company that impacts the whole family, their family's relocation experience will create a lasting impression of your company and its culture. Trust us to handle such relocations, and we'll balance unparalleled relocation technology with the personalized support of skilled relocation consultants, ensuring every detail is handled with care.
Expectations for Relocating C-Suite Executives
When C-level executives relocate, there are myriad moving parts to be addressed—and every expectation that the move will be smoothly handled. Executive relocations tend to be the most complex. They may involve the sale and purchase of high-end properties, plus the transport of valuable household goods and belongings. Often, it's a family affair.
A competitive relocation program at the executive level includes complete packing and unpacking services, highly-professional movers and premium real estate services. It should include a thoughtful range of destination services to assist in tasks like finding highly-desirable schools and neighborhoods. In addition, a C-level relocation package must include an on-call consultant to help manage and facilitate the massive number of details surrounding the move.
When you make us your relocation provider, Urbanbound's technology will connect your executive hires to vetted, best-in-class service suppliers that ensure the relocation experience is professionally managed. In addition, our relocation consultants will provide an exclusive level of personal interaction and responsive support—as well as access to premium services that match the needs and expectations of C-level executives.
UrbanBound Technology: A Superior Relocation Experience
Offering tiered relocation benefits is a smart way for employers to attract employees as they move through various levels of their careers. When your company makes it easy (and even enjoyable) for all types of employees to relocate, you attract talent at every level. At UrbanBound, our advanced relocation technology and attentive consulting services will help elevate your brand as an employer of choice. Take two minutes—learn how we'll do it!
Stay up to date
Subscribe to the blog for the latest updates