Stay up to date
Subscribe to the blog for the latest updates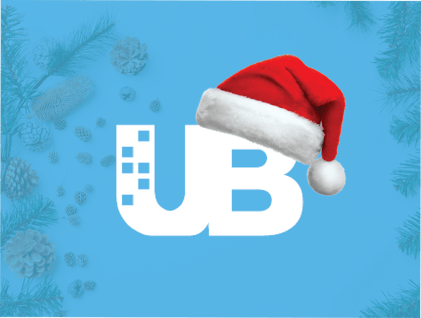 On the First Day of Relocation, UB gifted me...
A webinar to fit my employee benefits needs!
As a forward-thinking leader in the relocation industry, UrbanBound has heard it all, including first-hand insight into what benefits employees prize over others. This info packed webinar hosted by our Director of Marketing, Tiffany Staples, and Global Sales Leader, Michael Schwartz, will help you think outside of the box traditional offerings can sometimes trap you inside.
Find all the best tips on non-traditional offerings in this on-demand webinar, Out of the Box: Maximizing Employee Benefits with Non-Traditional Offerings!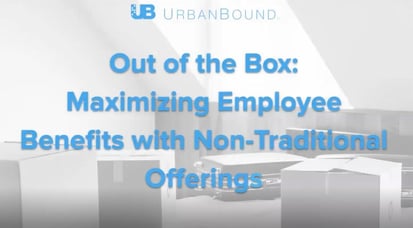 On the Second Day of Relocation, UB gifted me...
Mobility management tips for COVID!
2020 has been a year unlike anyone has experienced in their lifetime. It seems as soon as we get adjusted to a "new normal," something else surprises us. With global shutdowns, lockdowns and social distancing requirements, the pandemic has altered the relocation landscape, creating unprecedented challenges for employers and employees alike.
Despite all this, many relocations continue to move forward successfully. At UrbanBound, we're drawing on our industry knowledge, connections, and trusted partnerships to help our customers navigate the challenging, fast-changing relocation process as smoothly as possible.
With Managing Mobility During COVID-19 you can find our best tips for managing mobility and a little assistance during those unexpected yet inevitable hurdles associated with relocating during a pandemic.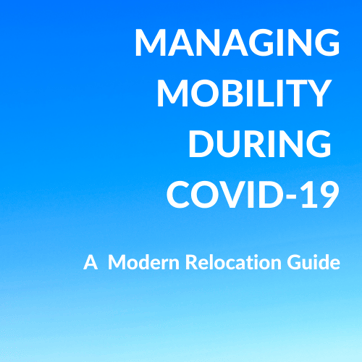 On the Third Day of Relocation, UB gifted me...
Tips to find my perfect relocation partner match!
Our Global Consulting Manager, Madison Stanley, and Director of Marketing, Tiffany Staples, gave away their best secrets and advice on how to know it's time to enlist or make a change from your current relocation partner, including tips for discerning if you're matched with the right one.
Watch the on-demand webinar, The Perfect Match: How to Evaluate and Find the Right Employee Relocation Partner for Your Business, for our best tips!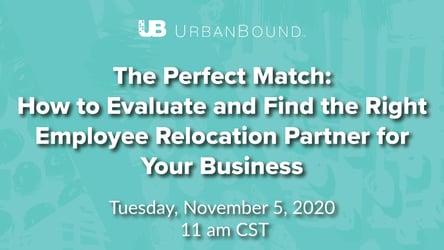 On the Fourth Day of Relocation, UB gifted me...
A quick tour of UB!
2020 has been hectic enough! We created this 2 minute tour of our relocation management solution to introduce you to UrbanBound without taking much of your valuable time. We believe employees should move to work not work to move.
Our modern relocation management solution (the first of its kind!) was built with choice and flexibility in mind. Check out The UrbanBound Employee Relocation Experience: A 2-Minute Tour.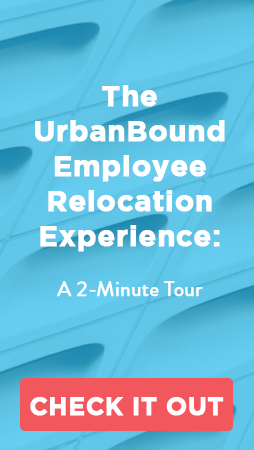 On the Fifth Day of Relocation, UB gifted me...
Strategies to cut costs not employee satisfaction!
If you're like most employers, your management team is constantly looking for ways to cut expenses, especially now. Relocation costs are often on the list, but you still need to attract and retain the best talent. We've captured some of our team's decades of collective knowledge and combined them into this helpful, simple to read guide.
It's time to learn how to Cut Relocation Costs, Not Employee Satisfaction.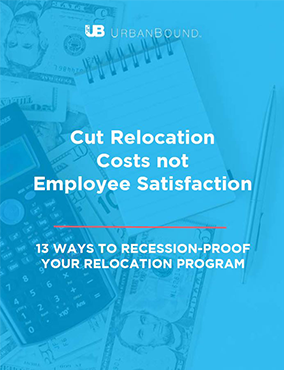 On the Sixth Day of Relocation, UB gifted me...
Tips on what to sweat when sweating the small stuff!
Relocations can be tedious and stressful, but it's usually the small stuff that adds up to big stress. Global Customer Success Leader, Jennifer Hoekstra and Relocation Consultant Manager, Ashley Hrovat talk micro-strategies, or small strategies, to help reduce stress and come out on top of relocations in this webinar!
Watch The Small Stuff: MicroStrategies that Help You Win the Employee Relocation Game Every Time webinar and start winning the relocation game - every time!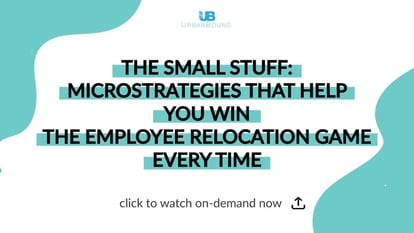 On the Seventh Day of Relocation, UB gifted me...
An eBook to redesign and reconsider what to include in your traditional relocation policy.
It's no secret employers need a strong relocation policy in order to attract, retain and promote top talent. With so many different options for policies how do you know which is the best route for you and your team?
The resources to help you decide what is important and necessary for your team's relocation experiences is right here. Find out if Traditional Relocation Packages are Still a Good Choice for Your Organization.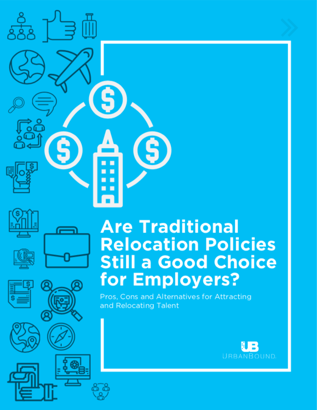 On the Eighth Day of Relocation, UB gifted me...
Resources to decode lump sums!
Flexible Allowance Plan

Capped Allowance Plan

Lump Sum with Relocation Management Software

Core/ Flex
Sound like a foreign language? Without much guidance, lump sums alone can be overwhelming for relocating employees. Navigate the waters of lump sum packages with Decoding the Language of Lump Sum.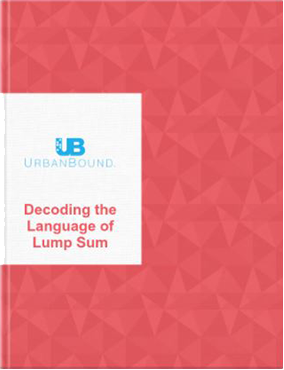 On the Ninth Day of Relocation, UB gifted me...
An eBook to make on-boarding a breeze!
Finding the right candidate to fit into your team can be hassle, but that is only the start of it. By the time the right one comes along and they FINALLY arrive, the transition into your company culture can be difficult if you're not prepared.
With the right resources, like our New Hire Welcome Kit, you'll learn key tips on how to make your new hire's first day memorable and set a positive tone for the rest of their experience with your company.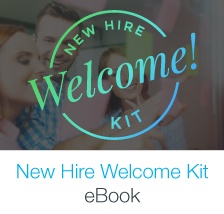 On the Tenth Day of Relocation, UB gifted me...
A guide to evaluating relo partners.
In "The Ultimate Guide to Evaluating Relocation Partners 2.0,"you will learn how to identify the most successful relocation partner for your company's needs, by learning the right questions to ask and what to look for to support your team.
Our Ultimate Guide to Evaluating Relocation Partners lets you in on a few of our dirty little secrets, as well as some hidden relocation costs.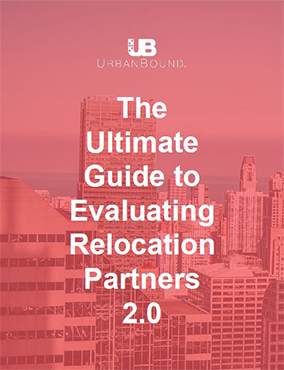 On the Eleventh Day of Relocation, UB gifted me...
An eBook to Optimize Benefits for Transferees.
Your employees are unique. Their benefits packages should be, too. Creating relocation packages, and properly using Core/flex, for your different types of employees allows for some individuality, but it can also save you time and money.
Read the Flexible Relocation: 4 Core Policies for Your Entire Organization to learn how to curate the best package for your employees.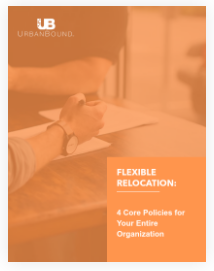 On the Twelfth Day of Relocation, UB gifted me...
A webinar to engage internal transferees.
Have you been searching for unique ways to integrate your new hires throughout the relocation process? If so, this resource is exactly what you need.
Global Customer Success Leader Jennifer Hoekstra and Account Director Nicki Donley give up-to-date tips on how you to integrate your employees into corporate culture and the key tools they need to settle into their new location.
Watch this 30 minute on-demand webinar, Engaging Internal Transferees throughout the Relocation Process and start incorporating new ways to engage your transferees in the new year.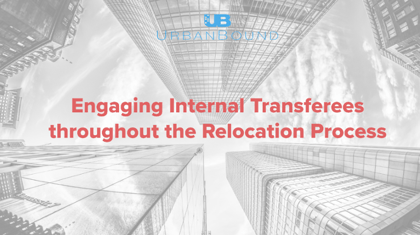 Each of these resources, although some very different, have something very special in common. Every single one was created with the most important reader in mind, you. And, for the most important purpose, to help your team grow and thrive. Close 2020 with hope that we will make 2021 a better year for every relocation, starting with these 12 resources.