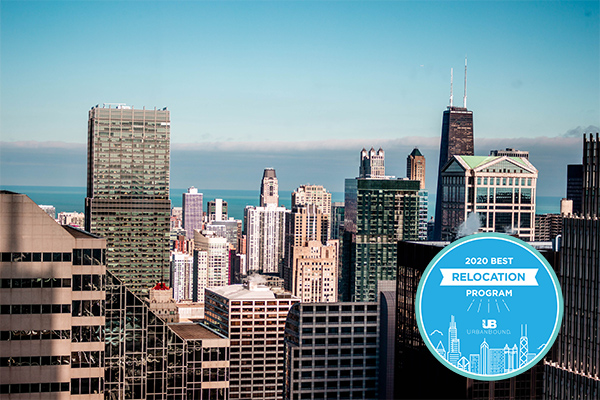 As the tech-forward relocation management company that built its business by pushing the industry's envelope—not to mention a few naysayers' buttons—we love nothing better than finding ourselves in jaw-dropping awe of our customers' innovative, outside-the-box approaches to enhancing their corporate relocation programs.
In that spirit, we are pleased to unveil our first ever customer recognition program:
UrbanBound's 2020 Relocation Program of the Year Award
.
"We're excited about this," says UrbanBound CEO and Co-founder, Michael Krasman. "The award will recognize a single customer who has displayed undisputable innovation in reshaping its relocation program, so it not only gets rave reviews from employees, but meets corporate budgeting and administrative objectives."
Award Methodology
To choose a winner, UrbanBound's in-house panel of judges are evaluating customers new and/or improved relocation programs in terms of these five criteria:
Vision – The customer articulated a clear vision of what it wanted its relocation program to achieve.
Company Culture – The customer made a conscious effort to make its relocation program a reflection of company culture and its workforce philosophy.
Employee Experience – Employees who relocated under the new program displayed high levels of satisfaction with the experience, demonstrated through satisfaction surveys or other tangible records.
Use of UrbanBound Reporting Data – The customer demonstrated effective use of UrbanBound's reporting feature to track how the program measures up to internal hiring, budgeting and administrative objectives.
Innovation - The customer's open, collaborative mindset and creative thought-leadership aligned with the UrbanBound team, invigorating us to try something new.
"Innovation is a big part of it," says UrbanBound co-founder Jeff Ellman. "When a customer goes through a process of rebuilding their relocation program, we go through it alongside them—offering advice, creating what-if scenarios, whatever they need."
"When their vision matches up with the future of our product, that's a huge 'Eureka!' moment for both of us—and we believe that deserves to be honored."
2019 marked an exciting year for UrbanBound. We signed a number of big name clients who were eager to make the leap from a traditional relocation management arrangement to UrbanBound's contemporary, tech-driven relocation solution.
In the process, many of these customers not only changed the way in which their relocation programs were administered, but the structure of the programs themselves. As a result, UrbanBound finds itself with a number of promising candidates for this year's award.
The awards review process is currently underway. UrbanBound will be announcing the winner of its 2020 Relocation Program of the Year Award in March—stay tuned!