Stay up to date
Subscribe to the blog for the latest updates
5. Trust Your Team
An entrepreneur's job is to develop the idea of what the world needs know, find a way to explain it, and then empower their team to take it to the next level. You can't do everything yourself, so build a team that will help you turn your vision into reality.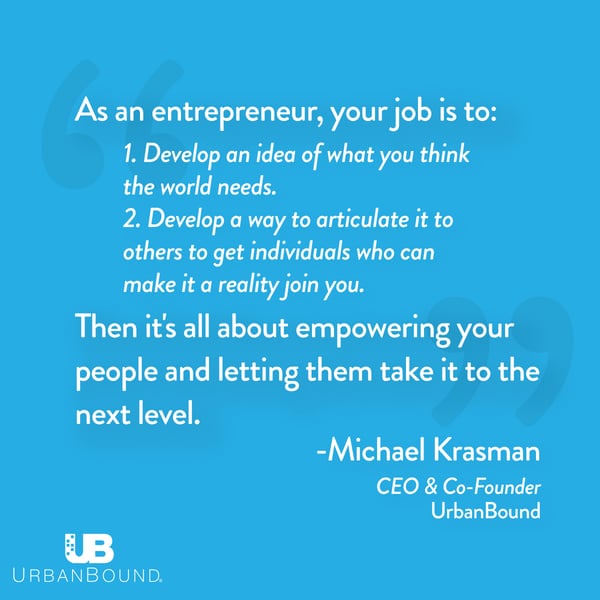 6. Be Open to Changes along the Way
According to Michael, each time he and his partners started a business, what they started out with was never quite what they ended up with—and that's just part of the entrepreneurial process.
7. Create an Organic Business Plan
It's critical to build a written business plan and marketing strategy and continually update them as business evolves. Michael recommends the EOS® (Entrepreneurs' Operating System®) process, which Jeff and Michael used to start their business endeavors.
8. Reach out to People You Want to Learn From
When the universe presents someone to you that you think you can learn from, don't be shy. Ask if you can contact them to chat periodically. Some relationships will be more formal than others, but mentors come in all shapes and sizes.
9. Read Great Business Books
Here are three picks from Michael's business bookshelf:
How to Win Friends and Influence People, by Dale Carnegie – Michael says this timeless best-seller offers immensely helpful ideas for dealing with your fellow human beings.
The E-Myth Revisited, by Michael E. Gerber – for great insights on cultivating the entrepreneurial mindset.
Traction: Get a Grip on Your Business, by Gino Wickman – an accessible explanation of the Entrepreneurial Operating System and a useful tool for entrepreneurs.
Visit Fireside Chicago for the entire interview.