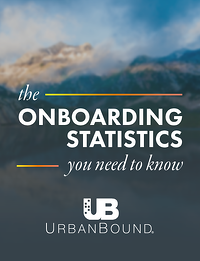 You know that onboarding can make or break the success of your employees (we've made it pretty clear), but we wanted to give you some facts to prove it.
Check Out Our Infographic with New Hire Statistics
In this infographic we provide the numbers behind onboarding, and some of the new hire statistics are pretty daunting. For example:
Organizations with a standard onboarding process experience 54% greater new hire productivity, along with 50% greater new hire retention. Impressive, right?
We think so too. However, in the UK and US alone, an estimated $37 billion dollars is spent annually to keep unproductive employees who do not understand their jobs, and 35% of companies spend $0 on onboarding.
Something isn't quite matching up here. Onboarding is important, companies know it's important, but many of us are still failing to implement strong and consistent strategies. Uncover the numbers supporting the importance of onboarding and learn why each company needs to be dedicating a lot of attention to its success:

Want to share this infographic? Use this embed code!
<p><strong>Please include attribution to www.urbanbound.com with this graphic.</strong><br /><br /><a href='http://www.urbanbound.com/blog/infographic'><img src='http://resources.urbanbound.com/hs-fs/hub/108270/file-2357280977-png/Infographics/b2b/inbcon_inf_onboardingprocess_mb15.png' alt='The Onboarding Statistics You Need to Know' width='650' height='8686' border='0' /></a></p>
Learn more about onboarding and how to improve your process by checking out our eBook below: