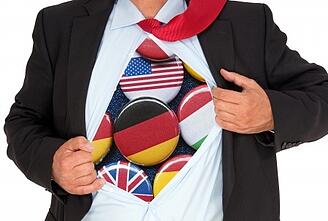 A Guest Blog By Vineeta Tiwari
Countries around the world are stepping outside their comfort zones to partner with other nations, and they're striving towards expanding their business horizons.
This is one of the major results that the advent of 'Globalization' in the early 21st century has yielded. The concept of going on a global platform has been playing a pivotal role in underlying disparities in economic structures, as well as social and political stability between countries.
The professionals who are migrating to other countries for work are extremely satisfied, as pay scales are good, cost of living is manageable, and the severity of immigration policies has gone down. The system is now more supportive for both the expat and their family. There are parts of everyday life that expats must adjust to, but are salary and amenities the only factors that matter?
Of course not. Cultural awareness is important, and it can make or break a foreign assignment.
The Mistake that Ruins it All
It is very important for the expatriate to get comfortable with the culture of the host country. It leads to more productivity and a smoother transition. Cultural awareness is probably the most important adjustment for the expat to make.
Imagine a situation i which an expat is unfamiliar with the customs of greeting people in Japan, or bypassing regulations during Ramadan in Islamic countries. While working abroad, sometimes innocent expats tend to consider social cues lightly and commit behavioral mistakes that may upset people. People can grow quite upset if their customs are not respected, even if the expat is unaware of their transgressions.
Playing the Game Right
Knowing and understanding the culture of a different country is not an overwhelming task, but it isn't something to take lightly. The "game" has to be played correctly, and it can be very intricate. Every country has a culture with religious and societal customs, all of which need to be learned and practiced by an expat in their daily behavior.
Create a Good First Impression
First impressions are extremely important. If you make a good one, then future transgressions will be met with more understanding. Still, your best bet is to learn as much as you can about the culture before you even arrive. That will help your first impression.
A Better Social Life
Human beings are very social, and the workplace cannot meet all our our needs. An expat in a foreign country is sort of like a butterfly struggling through its cocoon. In order to grow and flourish, it should know how to gel well with people. Countries like India, Japan, and Saudi Arabia are particular with their greetings, and getting an idea beforehand can help a newbie to put the best foot forward at social gatherings.
Happiness at the Workplace
A workplace matters a lot for an individual who has just migrated to a new country. The work has to be a combination of consistent focus and general happiness. An expatriate should adhere to the social protocols in office in order to avoid situations of embarrassment and dismay.
Greater Self Awareness
An expat can attain a state of elevated self-awareness, and consider the cultural rules followed in the new country. This can enable conversations to reach higher and better levels. Thus, an expat can project themselves as people who respect and regard other cultures.
A Happy Family
It's not only about the individual, it isn't just the working expat who has to take on the new world. It's also about the people associated with them. The family has an adjustment to make as well, and learning customs is equally important for them. Making sure the families of expats have a good experience makes everything run more smoothly.
Cultural awareness has paramount importance in an expat life and being enlightened on this front can help them to succeed well in both personal and professional lives.
Author Bio
Vineeta Tiwari, is a professional writer and blogger who follows and writes about global economy and different employment markets. She has written a lot of informative write-ups on lifestyle and employment of UAE and middle east countries. Follow her on Twitter @vinita1204