Lump sum might sound like an easy solution for your reimbursement plan - and it can be. However, there is a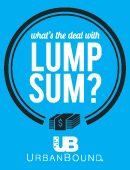 lot of legwork that needs to go into crafting an effective policy before the process can be streamlined.
Not only do you need to decide what works best for your company, but you need to understand the different trends and data behind what kind of lump sum policy is best for your company.
Is it a capped allowance plan? Is it a flexible allowance plan? Is it a lump sum with relocation technology assistance? There are a lot of different routes you can go - the only thing that needs to stay constant is the level of support you offer alongside the lump sum.
Once you have a policy set in place for your transferring employees that are offered lump sums, the whole experience will be a much more organized and efficient process. Before you get there though, it is important to understand the hard data behind what works and what doesn't work when giving lump sums. A few of the most helpful facts and numbers are outlined in this infographic.

Want to share this post? Here are some ready-made tweets:
Click to Tweet: Lump Sum Policy's are great when it comes to relocations, find out why! http://ctt.ec/Uzflf+
Click to Tweet: 49% of companies will use lump sums to reimburse transferees- find out why: http://ctt.ec/Gvx56+
Still have more questions about lump sum? Read more in our eBook below, or leave us a comment with your thoughts!