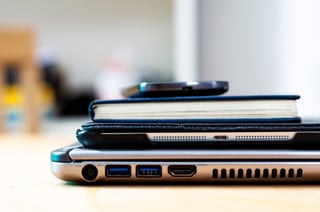 We take a lot of our most commonly used technology for granted: Microwaves, smartphones, even nearly invisible things like rechargeable batteries.
One thing all of these have in common: Their early incarnations were basically terrible.
Yet the promise of advancement and the execution of a core idea were good enough for early adopting consumers to buy, which over time resulted in more, better, and more affordable iterations. This cycle of improvements built off the backs of early users continues today, and it carries with it a litany of pros and cons.
Early hardware is more likely going to be expensive and updated annually, with upgrades requiring full or near-to-full price.
Think of the iPhone.
The first model was introduced to highlight three main features: iPod, Phone, Internet.
The next model, the iPhone 3G, which added faster cellular data capabilities, as well as its fourth and most well-known pillar: Apps. Each iteration afterwards has added both hardware and software capabilities.
Early adopters get access to the tech first, but the upgrade cost is much higher. You have to weigh your needs and what the available product is offering against the productivity cost of waiting for the "perfect" version.
In the software world, things are much more varied. A startup's first version of their software is typically little more than a skeleton on which to build.
As an early adopter, you may not have access to the full suite of features you want or need, but you gain the ability to have your wants and needs shape the product as it evolves. Software developers rely on user experience and testing to hone their products.
If your company is agile enough to deal with occasional hiccups or setbacks in the short term, over time you can end up with a more custom set of options and functions than you'd have otherwise. As an added bonus, aside from major foundational updates to software are typically distributed for free, as the cost is built into your subscription or licence pricing. You'll get new features at the same price point until the next major revision.
Jumping in on a trend early is partially a gamble, but it's also an important investment in your future. Even if you have an idea of what the future of a product holds, you will always be surprised.
It's trial and error, experience and knowledge that build a product, and your contribution allows you to help shape the future.