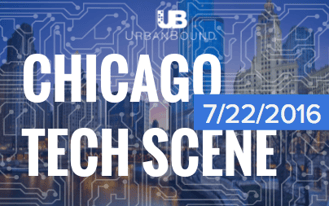 There are so many cool things happening in Chicago's tech community that it's hard to keep!
That's why we're here — to bring you all the top news in one convenient spot.
This was a busy week, so let's jump right in! Check out the Chicago tech news you may have missed this week:
Don't Lose Important Data From Phone Calls
There are a lot of resources out there if you want to analyze data from emails, social media, web-based ads, and so on. But what about data and information that is mentioned over a phone conversation?
DialogTech just announced the launch of Dialog Analytics — their breakthrough approach to categorizing phone call conversations.
"In today's mobile-first world, consumers researching purchases on their smartphones engage with businesses by calling," said Irv Shapiro, CEO of DialogTech, in a statement. "Each call and conversation contain a wealth of actionable -- but untapped -- marketing insights. DialogTech now provides the only platform for marketers to see which channels, ads, campaigns, keywords and website content drive good calls, with the definition of 'good' being completely customizable to each marketing organization."
Read the full press release here.
Tracking Online Reviews: The Easy Way
Before booking a doctor's appointment, making a reservation at a restaurant, or even applying for a job at a company — what's the first thing we all do?
Check online reviews.
But with so many online review website, it's hard to keep an eye on them all and reign in all the results, insights, and feedback.
ReviewTrackers realized this problem and they just secured $4 Million to solve this issue. Their software allows companies to keep an eye on every major review website.
"We invest in companies that we believe can improve how businesses interact with and deliver value to customers," said Dan Reed, managing director of American Family Ventures, in a statement. "It's essential for businesses in the digital age to become customer-centric and deliver on their brand promises. ReviewTrackers offers that function — a simple, fast, and easy way to listen, respond to, and innovate based on what customers are saying."
Read the full press release here.
Wish there was more? Check out these articles:
Med-software maker Caremerge raises $14 million Crain's Chicago Business
ReviewTrackers raises $4 million more Crain's Chicago Business
Tech roundup: SpotHero heads to Hollywood, ReviewTrackers' new round, & more Built in Chicago
Tech.Co Heads to Chicago for Startups, Stays for the Comedy Tech.co
LQD Business Finance Secures Portion of Series A Financing, Led by Fintech Ventures Fund Built in Chicago
This Wooden Smart Clock Will Keep You From Constantly Checking Your Phone Chicago Inno
Pritzker-Backed Dollar Shave Club Acquired for Reported $1B Chicago Inno
RedWave raises $5.5 million to turn heat into electricity Chicago Tribune
SpotHero expands to LA, plans to add other West Coast cities Chicago Tribune