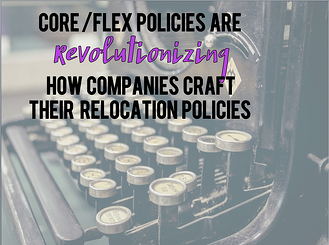 If you've paid an ounce of attention to what we've been talking about lately, you know we've dedicated a lot of time to discussing core/flex relocation policies. Believe it or not, there is a method to our madness.
While we do enjoy talking about these types of trends (really, we do), core/flex is a very dense topic that warrants more than just a blog post or two. That is why we've dedicated so much of our time to really diving into the developing trend and understanding its ins and outs.
The core/flex approach should be discussed deeply, and in a variety of ways. Hopefully our efforts have sparked conversation around the topic and provoked others to learn from one another.
So, for those of you whose brains are hungry to consume this topic in one more way, we've created this custom SlideShare to help guide you through what we think some of the key aspects are of a core/flex approach:
Want to learn more? Here is our webinar about core/flex, and here is our eBook. Knock your education-hungry socks off, because core/flex isn't going anywhere!