"The hardest thing in the world to understand is income taxes." — Albert Einstein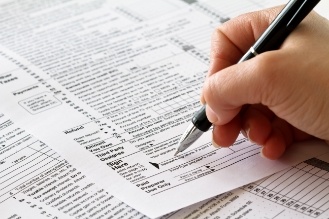 If Einstein said it, it has to be true, right?
Whether you agree or disagree with this statement, it's safe to say that filing taxes can be pretty darn complicated. You have to take a number of factors into consideration, like salary, bonuses, marital status, location, number of dependents, and more.
If you've recently relocated, that can add another layer of complexity to the mix.
Depending on your company's relocation benefits, the subsequent tax implications for your relocating employees can range from a few deductions to major changes in how they file. And although the actual moving part of their relocation may be over, taxes can be an ugly blemish on an otherwise successful move if handled poorly.
Filing taxes correctly is ultimately the responsibility of your transferring employee. You can't file for them, and you aren't necessarily responsible for connecting them to a tax expert. However, making sure your employees are aware that their relocation could have tax implications and providing education can help them take the first step to filing correctly.
Are you educating your transferees?
If not, you may want to think about either pointing them to some tax resources, or providing some base-level education yourself. At the very least, we recommend you make them aware that their relocation could impact the way they file taxes this year.
If you are looking to provide educational resources, the Worldwide ERC provides an overview of relocation taxes on their website. Depending on the relocation benefits your employees are offered, the tax implications can vary drastically. It may not make sense to provide education to cover every tax scenario possible, but sharing the basics can be a good starting point—especially for your lump sum population.
There's a good chance that many of your transferees receiving lump sum have never moved on their own before and therefore have never had to file taxes that include relocation expenses. Providing some foundational information before their move can help ensure that they make smart decisions throughout their move and prepare them for their end of the year tax filing.
Let's take a look at some basic relocation taxes and how they can impact your relocating employee's experience.
Relocating Ron has been transferred from his San Francisco office to the San Jose office for a new position. His company has offered him a reimbursement of up to $2,000 for his move.
Ron wants to be smart about spending the $2,000, so looks for ways to stretch the funds. He knows that shipping household goods is tax deductible so he books a mover, submits his expenses for reimbursement, and makes the move. However, at tax season when he tries to deduct the household goods shipment, he finds that he's not eligible. He didn't meet the distance test requirements which says that his new office needed to be 50 miles further from his old house than his previous place of work.
Although the taxes owed aren't substantial, he's frustrated that he owes more taxes than he planned for and didn't catch the eligibility requirement.
This is just one example of how taxes can impact the relocation experience long after the physical move. In this case, it was an oversight that won't cost Relocating Ron a lot of money, but this won't always be the case.
If Relocating Ron had known about the distance test, he may not have made any decisions differently, but he would have been prepared and not caught off guard when tax season rolled around. Luckily Ron had the funds to cover the discrepancy, but not everyone will.
You can provide basic tax education about things like the time and distance test in a number of ways. You may choose to simply let employees know that there could be tax implications and point them to a resource like ERC's, or you can hand them a brief overview of relocation taxes when they receive their policy information.
If you're providing relocation management software as a benefit, look for solutions that also provide some kind of tax education. This allows transferee to reference education information throughout their move and reduces risk of losing the information since it's a digital solution. Some solutions, like Relocation Management Software, provide general tax information within the application. Additionally, when expenses get uploaded, platforms like UrbanBound tag expenses that might have tax implications and link employees back to the general tax education for further information.
No matter how you choose to educate employees, we recommend taking some measure to ensure they understand that their relocation could impact their upcoming tax season. This will not only help prepare them for a successful move, but also demonstrates that your company cares about their employees and their relocation experience.
This blog is intended for general information. Regarding your specific situation, we suggest that you consult with your own tax or legal advisor as appropriate.