T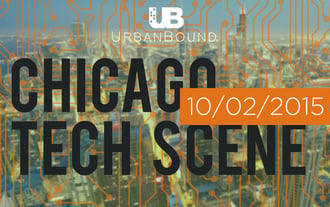 op news from the Chicago Tech Scene anyone?
You've come to the right place. I think it's safe to say that we at UrbanBound are very proud of our hometown, as are most Chicagoans.
From sports to pizza, skyscrapers to music and everything in between, Chicago inhabitants take great pride in everything that comes out of the Windy City.
Here at UrbanBound we focus on the tech. Check out the top news you have may have missed this week from Silicon Prairie (verdict still out on that moniker):
Avant: A Chicago Unicorn
Avant, one of Chicago's fastest-growing startups, made a huge announcement with their Series E funding: Oh Look, a Chicago Unicorn: Avant Just Raised a $325M Round at a $1B Valuation writes Chicago Inno.
The consumer lending platform, employs 750 people and has originated a whopping $1.7 billion in loans last year. This boom in online lending is a testament to the growing US economy and low unemployment rate.
"Avant is serving unmet demand on a global scale and providing millions of consumers with access to responsible credit in a clear and timely manner," explained Al Goldstein, CEO of Avant in a release. "We are proud of Avant's tremendous growth over the last three years and continue to believe in the power of technology to innovate and improve the customer experience."
Congrats to our 640 N LaSalle neighbors!
Take a Selfie, Get Paid
With the selfie craze taking over the lives of Millennials and pretty much the world, is it really a big surprise that now there's an app that will pay you for your selfies?
Pay Your Selfie, founded by Michelle
Smyth, has found a fun way for advertisers and consumers to get involved using selfies. So, how does it all work? CEO explains why her app will pay you to take selfies to Chicago Tribune.
Smyth tells Chicago Tribune: "We provide a lot of fun tasks and you'll see that those are the lower-priced ones, 20 cents to 40 cents for each selfie. Our branded selfie tasks are usually $1 and could be more. When you reach $20 in your piggy bank, you can cash out and get a check in the mail.
Every Saturday we have Selfie Saturday that is a $1 selfie. When you sign on, it's $1 as well. We will soon have a refer-a-friend program, too. For every friend you refer, that will be another dollar, so you can really hasten the $20 payment."
This may be a fun way to make a little extra money for splurging and to put those selfies to good use. Check out the full interview at Chicago Tribune.
The Future of Writing Starts With This Tech
From texting to emails to social media posts, we spend a big chunk of the day writing, and our writing is a reflection of ourselves both professionally and personally. But writing well is an art form that may be dying, according to Hooray Learning.
Chicago-based startup Hooray Learning wants to bring the fun back into learning and especially writing and in the process cultivate a future of exceptional writers. Built in Chicago covers the story in their article How one Chicago startup is building a generation of creative writers.
"We try to give students a really robust set of tools to get them excited about and interested in the writing process so that they have some sort of investment in what they're writing," said Dustin Walsh, CEO and co-founder of Hooray Learning.
"We want to get kids to fall in love with learning," Walsh tells Built in Chicago. "With technology, you're giving them access to the world of knowledge through a device that they have in the palm of their hand, and I just think that's an amazing opportunity for education."
With having to compete with iPhones and social apps, a well-built and engaging educational technology is exactly what newest generation of students needs at their disposal.
Can't get enough? There's so much more happening in our lovely city. Check out these articles:
Amazon delivery service takes a page from Uber Crain's Chicago Business
Health care startup raises $11 million Crain's Chicago Business
The Friday Exit: Not much to joke about at Groupon Chicago Tribune
Beautiful New Drone Video 'Homesick for Chicago' Shows Stunning Views of the City Chicago Inno
Sittercity Launches Chime to Let Parents Find Babysitters On Demand Chicago Inno
Another Chicago unicorn: Avant lands $325 million at valuation over $1 billion Chicago Tribune
Forget group texts: Brunch makes it easier to meet up for drinks Built in Chicago
Chicago-Based iConsumer Rewards Customers with Shares of the Company Chicago Tribune