Guest blog from Social Monsters
Kermit the Frog might say it isn't easy being green, but businesses of all sizes will find that it's easy for them nowadays—and it also makes good business sense. Some eco-friendly practices such as recycling and adopting green building standards are mainstream and cost very little. Many even provide savings, particularly those that focus on saving electricity and reducing costs for office supplies like paper.
Employees Support Business' Green Efforts
Employees like it when employers embrace environmentally-friendly efforts such as recycling and programs that reward them for carpooling, using public transportation, or walking or biking to work.
Green-friendly efforts strike a chord with Millennial employees (those who reached adulthood around the year 2000) in particular, according a 2014 Deloitte survey of workforce expectations. The Millennial Survey found that well over 50 percent of this generation, which dominates today's workforce, expect employers to take proactive steps such as addressing resource scarcity and global warming.
Low-Cost, No-Brainer Ways to Go Green
There are three proven environmentally-friendly strategies businesses should engage.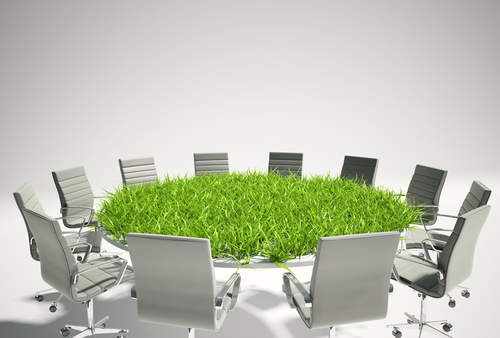 Recycling: It's hard to imagine a company that doesn't recycle but if yours is one of these, it's time for a change. Cities and counties are eager to help put recycling programs in place for paper, plastics, and aluminum cans. Companies can also turn to building management for help; those who use private firms like Waste Management will find excellent recycling programs.
Transportation subsidies: Businesses can consult with city or county transportation and/or environmental departments to get information on ride sharing, public transportation vouchers, and other programs to encourage carpooling and commuting alternatives. Some programs will even sponsor employee rewards through gift cards.
Telecommuting: If the fallout from Yahoo's decision to end telecommuting is any evidence, it's a particularly cherished benefit to many employees who value spending less time in traffic and money on gas, and having less wear and tear on their personal vehicles. In return, they work smarter and more efficiently. An August 2014 study from Stanford University measured a 13 percent increase in work quality and 25 percent increase in productivity in one telecommuting program. Corporate savings were about $2,000 per year, per employee.
Leasing or Buying Corporate Hybrid or Electric Vehicles
The ultimate step in making a green statement from a corporate point of view is using hybrid or electric cars for business purposes. Companies can check out prices for any vehicle make, model, and year through sites like Kelley Blue Book, which narrows down costs to the zip code.
Savings often come from tax credits offered by the Federal government and many states. According to Fueleconomy.gov, any new electric vehicle purchased after 2010 is eligible for a tax credit up to $7,500. Plug-in hybrids are also eligible for the same credit. Leases are a little different; businesses, but not individual consumers, can claim the tax credit. If the leasing company insists on keeping the credit, consider this a negotiation point.
Fueleconomy.gov offers a gas mileage savings calculator which can be helpful in projecting annual savings. If corporate vehicles are used for short-hauls such as to and from an airport, leasing an electric or hybrid plug-in might be a smart choice, according to AutoTrader.com, which points out that since plug-in cars are still new, their resale value is uncertain. Their gas savings, though, may be well worth the cost of the lease.