A job opens up, someone abruptly leaves, a new project needs a seasoned manager - these are all reasons why companies typically relocate their employees. Employers use it as a means of support to a current situation, when in reality, relocation should be used for leverage. Many companies aren't fully utilizing their relocation program potential, and a lot of this is due to transparency issues.
If you look at a company's website, you probably aren't going to see who they partner with for relocation services on their homepage. You probably won't even find it on their "About Us" or "Careers" pages. Information about relocation providers probably won't be found anywhere at all - in fact, this typically doesn't get touched on until late in the interview process. While this is done in an attempt to stay private against competitors and other companies in the space, you might actually be negatively impacting your ability to recruit and acquire top talent - especially your Millennial talent.
Use Your Relocation Programs to Your Advantage
When a Millennial, or anyone for that matter, lands on a website, they will look at the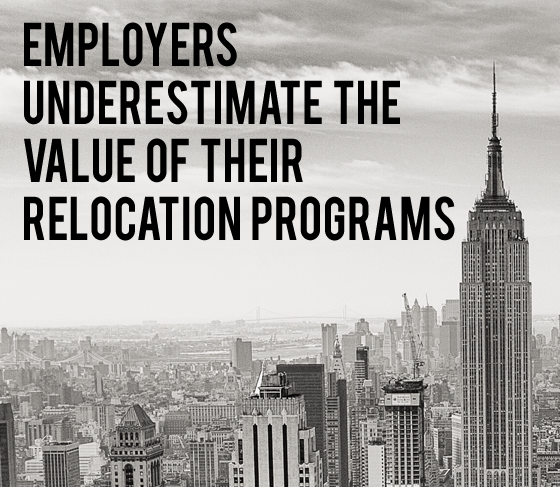 atmosphere the company embodies, their values, their culture, their benefits, their job openings, and lastly, their location. If they see that the company is located across the country, they will probably automatically dismiss the possibility of working there.
Unfortunately, a lot of possible applicants don't even consider relocation as an option. Many assume that relocations only happen for those who are already employed within a company, not for someone who hasn't even applied yet. So, they scurry away from the website and land on a different one, one with an opening in their city. They apply, they are a perfect match, get the job, and everyone lives happily every after - well, everyone except the first company who lost their possible applicant.
If that first company had said somewhere on their website that they have fantastic relocation options and would support and supplement the cost for a person to move for the position, it might have intrigued that person to linger a bit longer on the page. If candidates see that a company is willing to pay for them to move - that they are valued that much - they will be much more likely to apply for the position.
The Perfect Transferee
The fact of the matter is, when you are one or two years out of college, the thought of moving is scary but also extremely enticing. These younger hires probably haven't fully settled down yet and they likely don't have a family or children to think about. These people are your ideal transferees.
Millennials are the ones most likely to embrace the thought of moving. They are young, eager, mobile, and they are going to be the future of your company. If you can encourage Millennials to apply for your positions, reassuring them that the relocation will be completely taken care of, it will widen your talent pool exponentially.
Increase Transparency
What can you do? Brag about your relocation program a little bit! Make it clear that your top priority is attracting top talent for your company, no matter where candidates are located. If you can attract talent from further than just your backyard, your company will see a huge spike in the level of talent you are recruiting. More people are willing to relocate than you might think, you just have to make it clear that you're willing to do whatever it takes.
Want to learn more about this? Join our webinar next month that touches on this topic in depth: