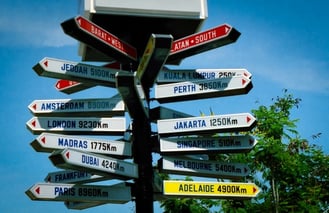 Anything can cause stress—trying to juggle multiple projects at work, making sure your home is picked up before guests arrived, or even trying to plan for a vacation. And depending on your threshold for stress, anyone of those things could trigger a meltdown.
But inevitably there are some life events that cause more stress than others. People experience different types of stress in almost all areas of their lives, but some life events create stress in ALL areas of someone's life.
Relocating is one of those events. It can affect work, home life, relationships, and more. How can you as an employer help reduce stress felt by your relocating employees and ensure that they don't hit a "Relocation Stress Meltdown"?
What is a "Relocation Stress Meltdown"?
It's just one of many terms that can be used to describe the feeling a transferee gets when they feel overwhelmed, under equipped, and panicky about their move. It's the point when transferees are unsure if they should move forward with their relocation. Reasons for feeling this way could vary—from not knowing where they are going to live, to getting nervous about uprooting their family, to simply feeling like they don't know how to even start the move process.
No matter the cause, it can easily lead to the transferee doubting their decision to move, doubting the position they're about to take, and even doubting the company they are moving with. And it doesn't end with the day they start work. These feelings can linger if the employee doesn't feel properly settled into their new city.
How can you help?
How can you as an employer reduce stress for your relocating transferees and mitigate the chance of a "meltdown"?
Provide your transferees with solutions and policies that help them prepare, organize, and execute their move. You can't completely eliminate feelings of stress, but by providing the right tools you can help eliminate some feelings of chaos.
Build policies that help transferees plan and execute. Some benefits, like covering the move of household goods, help transferees execute their move, while others can help them prepare and plan for their move. If possible, try to include both types of benefits for your transferees.
For example, allowing your transferees to take a homefinding trip not only helps them find a place to live, but also introduces them to the area or city they will be living in. Seeing their new area can make transferees feel more comfortable about their move and even lead to excitement.
Find ways to streamline the relocation process
Look for ways to make the move easier on your employees, and yourself. For example, if you are intending to cover your transferees' household goods move, then reduce paperwork for the transferee by collecting and paying the invoice directly from the supplier.
With this approach, the transferee doesn't have to front costs or worry about collecting a receipt and getting reimbursed by their employer. Extra bonus—by paying the suppliers directly, you and the transferee don't have to pay income on any money reimbursed to the transferee.
Help transferees stay organized with Relocation Management Software
In addition to the major components of a move, like finding a place to live and deciding how to get your belongings there, there are a number of other tasks that need to be completed during a move.
Relocation Management Software provides a single place for your transferees to manage their move. These solutions often come with tools like a task manager, which tailors a list of tasks to the individual who is moving.
Simply providing a list of tasks that need to be completed with suggested dates can provide transferees with visibility and allow them to focus on what needs to be done before, during, and after their move. Many RMS solutions also allow transferees to manage their budget, track and store expenses, and even provide access to educational and hyperlocal content.
Stress is not something we can or even want to eliminate entirely from our lives or our transferees lives. Often, it is tied to positive feelings and positive changes in life. Use these tips to help your transferees prepare, plan, and execute their relocation, hopefully resulting in reduced stress and increased feelings of excitement toward their new home and workplace!