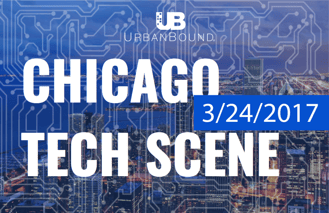 Welcome back this week for another update on what's new in the Chicago tech scene! This week, we've got sports, space, and e-mails. To infinity and beyond.
Time to sit back, relax, and wind down—Friday is here, and the weekend is upon us.
Clutch Will Make You a Sports News Expert in 3 Minutes (Or Less)
One startup is taking the newsletter model and taking it all the way to the end zone, and ChicagoInno has the scoop:
"Our newsletters are written to be read in less than three minutes by people with zero to little sports context," Xi explained. "Currently, ESPN and the like write for avid sports fans who already know the context around players, teams, and stats," she added. "We explain the context. How famous is this player? Why is this newsworthy? What does this stat mean? Why is it impressive?"

They're also developing sports guides (similar to Vox Cards, Xi explained), such as "Beginner's Guide to American Football" and "How to Watch Baseball." The "Bulls Fan Starter Kit" has seven paragraphs that break down the team's history (Michael Jordan, the 72-10 season) and where the team stands now. And as sports events pop up they'll be offering additional features, such as a March Madness bracket builder where users would click the winner of match ups after learning a few facts about each team.
Check out the full story to learn how this innovative approach to sports news came to be, and where it's going next.
This AI platform wants to send you email only when you want it
Email is a regular target of the startup innovation ray, and Chicago startup Optimail has a genius solution. Built In Chicago writes:
"Optimail is a platform for marketing automation that provides adaptive messaging," said co-founder Jacob Zweig. "It learns about each customer, what they're likely to respond to and when they're likely to respond. Then it automatically adapts the campaign to send them the right information."

For instance, if a customer is more likely to click on emails during a morning commute, Optimail will learn that pattern and keep sending emails in the morning. The platform also adapts factors like subject lines and content of the email itself for the customer
Head over to ChicagoInno to see what the next wave of sports disruptors are up to.
NASA Backs an IL Startup to Make Smart Air Filters for Spacesuits
The University of Illinois Champaign-Urbana continues to be a leader at incubating science startups. Serionix, a company based there, has just received funding from NASA. ChicagoInno has the details:
The startup, which launched in 2011, developed an adsorptive coating technology called Colorfil, which changes colors as it removes toxic chemicals and odors from air, while also killing viruses, bacteria, and mold, the company says.

Serionix first started working with NASA in 2016 with the NASA SBIR (Small Business Innovation Research) program. The new contract will evaluate Serionix's technology for use in the next generation of NASA's astronaut spacesuit and personal life support system.
The full story can be read here.