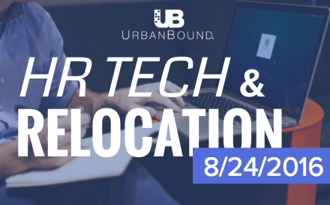 We're back this week with some of the top news from HR Tech and relocation in the past week!
It was a busy week in the wonderful world of HR and relocation, so we did you a favor and gathered some of the most noteworthy news and compiled it for you in one place.
Speaking of, here's a good one to know. Have you wondered what the top 10 safest countries in the world currently are? Conde Nast Conde Nast Traveler has the answer.
Read on to find out what's top of mind this week for HR and Global Mobility Professionals:
Are You Nurturing Your Global Leaders?
LSE [The London School of Economics and Political Science] published an interesting article on MetLife's entrance on to the global stage. This a moment of great success for any company, however, MetLife found out that their workforce was severely lacking in international business experience. Not to mention, many employees did not possess the understanding of the complexities associated with operating a company on a global scale.
Their solution? You guessed it—a global mobility program aimed at growing global leaders.
Because, according to LSE's perfectly titled article — A globalised economy requires a globally savvy workforce.
"We needed our more senior leaders to have international experience as they moved through the management hierarchy so they could really understand the complexity of operating in a global business context," said David Henderson, MetLife's chief talent officer and executive vice president of human resources for its global functions.
"Global companies are woefully understaffed when it comes to having employees with global experience," Robert Salomon, associate professor of management and organizations at New York University, tells Business Researcher.
The need for a workforce that possesses global smarts is not just a luxury, it's a necessity. According to the article, there are currently more than 100,000 multinational companies compared to 40,000 twenty years ago.
Real Estate Investment Opportunities
The Chron's global mobility industry expert Michelle Sandlin is back with indispensable advice.
This week she covers investment opportunities in real estate for her Chron article
On the move: Houston market continues to attract foreign investors. Sandlin reached out to Anne Incorvia, executive vice president at John Daugherty, Realtors to get some answers.
"It is important for people who are buying real estate for investment purposes to work with an agent who is well-versed about investing," Incorvia told Sandlin. "The agent needs to know the area and what the rental market is like in that area, what properties are currently available, how fast they are renting, what the pricing is, and also about property management options."
"Real estate is local, and you really have to look at a very local micro market, and not the macro market when looking for investment," Incorvia told Sandlin.
Read the full Chron article here.
Looking for more? Don't worry — we've got you covered! Check out these additional articles:
Expatriate Taxation - Don't Be a Cowboy! [Lexology]
Hiring A CEO? The Data Behind What Makes A Great One [ERE]
Hiring Wisdom: What Do You Really Know About Your Hiring? [TLNT]
Infographic: Average 2015 salary increase was 2.7%, SHRM says [HR.BLR]
Six Mistakes Expats Make With IRAs—And How to Avoid Them [Wall Street Journal]
Too Many Executives Are Missing the Most Important Part of CRM [Harvard Business Review]
United States: Update on Visa Appointment Backlogs at U.S. Consulates in India [FEM]
UK's digital online visa application programme rolled out to over 180 countries [Expat Forum]
Surge in Britons and Americans eyeing move to New Zealand [Re:locate Global]
How to Get a Second Citizenship [movehub]