We are keeping our eye on the Chicago Tech Scene and gathering the most important weekly developments. Read on to find out about the hot announcements and exciting advancements in Chicago's Tech Scene that you may have missed this week.
Chicago: Leader of Smart Cities
Chicago is taking the steps to become a model for the future smart city where big data is collected via sensor nodes and cell phones to better the city for its inhabitants. Don't worry this doesn't mean Chicago is turning into a Big Brother city- your individuality is still safe.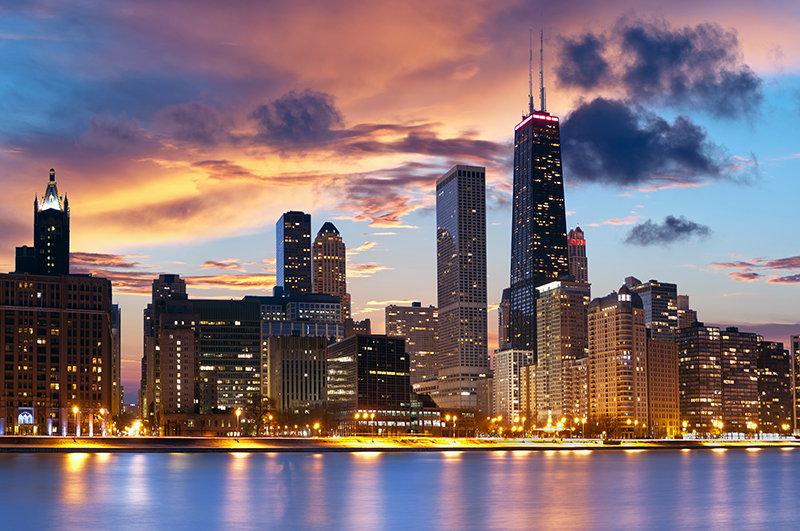 Dubbed "The Array of Things" (AoT) the program will collect the following metrics with the use of 500+ sensors: temperature, humidity, light, sound, carbon monoxide, nitrogen dioxide, motion, low-resolution infrared, cell phone signals, and foot traffic (via Bluetooth.) The results will give a better understanding of the city and show the interactions between the residents.
TechCrunch's Nick Rojas article "Chicago and Big Data" takes a deep dive into the logistics and analytics. He outlines the following examples enhancements that will be made:
Traffic control systems: Enhance the flow of traffic at intersections by determining changes related to work and holiday schedules.
Maintenance management: This could enhance the life of fleet vehicles, etc.
Smart grids: Power distribution is always subject to change as it relates to environmental metrics like temperature
Monitoring trends in criminal activities: Track car thefts and even the stolen cars themselves more efficiently.
Public works: The storage, transport, and application of road salt in the winter as it relates to snow accumulation.
In a press release, the city of Chicago stated that "Chicago's SmartData Platform is a tool that will provide leaders the ability to analyze millions of lines of data in real-time; this helps make smarter, earlier decisions to address a wide range of urban challenges."
Chicago Ranks #1 in the US for Cell Service
Root Metrics analyzed cell performance and Chicago came out on top! All the big phone companies were included (AT&T, Spring, T-Mobile and Verizon) in 125 cities across the US and the results determined that, except for Chicago, big cities performed poorly when it came to cell phone coverage (New York City placed 98th.)
ChicagoInno analyzed the Root Metrics report in their article "Can You Hear Me Now? Chicago Ranks No. 1 in the U.S. for Cellular Service."
Here's how Chicago placed by each category:
Overall: 1st

Reliability: 2nd

Speed: 3rd

Data: 1st

Call: 9th

Text: 15th
Top 5 Cities for Cell Phone Performance:
Chicago, IL

Oklahoma City, OK

Lansing, MI

Rockford, IL

Spokane, WA
Chicago Teen Develops Game App That Wins in the App Store
NBC's Lauren Jiggetts writes about the successful Chicago Teen that developed a game that became a worldwide hit in her article "Teen Develops Brain-Teaser App That Surpasses Tinder in App Store." A few months ago the suburban Chicago teen, Austin Valleskey, was contacted about an idea for an app by Australian Ben Pasternack, who is also 15, Jiggetts writes.
"I thought it was cool," said the Wheaton Academy sophomore. "He asked if I wanted to make it into a game. I said sure, it's a Saturday, I've got a couple of hours."
The rest was history.
The brain-teaser app, called Impossible Rush, was downloaded over half a million times and passed up giants such as Skype, Tinder and Netflix. At its peak it ranked 16th worldwide.
Fun fact: Valleskey taught himself computer programming just a year ago.
Groupon Launches Groupon Pages
Groupon has taken the next steps to become more accessible for all businesses with Groupon Pages which will host a community of profiles for local businesses. In the Chicago Tribune article "Groupon Pages Launches, Aims to Appeal to More Local Businesses" Elahi writes: Dan Roarty, Vice President of marketplace and overseer of the Pages program, said the product is designed to drive traffic to merchant partners and encourage visitors to buy Groupons for services they're about to purchase. Customers can claim special offers or coupons, or place orders for delivery if a merchant uses Groupon partners delivery.com or eat24.com.
"For those merchants that haven't run a deal with us, we're hoping that Pages is a way for us to start the dialogue on how we can help their business and that they'll want to run a deal with us when the time is right," Roarty said in an email to Chicago Tribune.