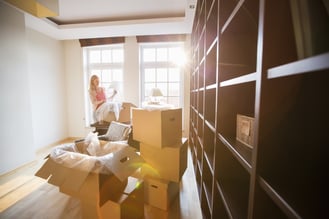 We all know that when it comes to relocation—one size does not fit all. An entry-level new hire relocation will not receive the same benefits as a relocating executive. A family needs more assistance than a single employee, a renter needs different assitance than a homebuyer, an intern has a different set of supplier needs than a full time hire, and the list goes on.
However, even transferees receiving the same benefits will need some customization to their move. Someone moving to a small town will need different assistance than someone moving to a large city with millions of residents.
Executives and senior level employees will typically have their move tailored to them through a high-touch relocation experience. But what about those who receive a lump sum? After they receive their lump sum, they are usually on their own - with little to no resources to help them navigate the nuances of their relocation. Is there a way for you, the employer, to help tailor their move and improve their experience—without breaking the bank?
The answer is yes! There are affordable ways to provide assistance to your lump sum recipients without spending a fortune.
Just like other relocation populations, lump sum recipients will need different resources based on where they are moving, what their family status is, and what move factors are most important to them.
Relocation Management Software like UrbanBound can help transferees prioritize tasks and organize their to-do list.With UrbanBound, transferees can answer a series of questions that the software uses to create a tailored list of tasks. The questions range from questions like "Are you interested in buying a home"? to more detailed questions like "Do you need to book a rental truck?" The answers also connect the transferee with a list of vetted suppliers for each of their needs.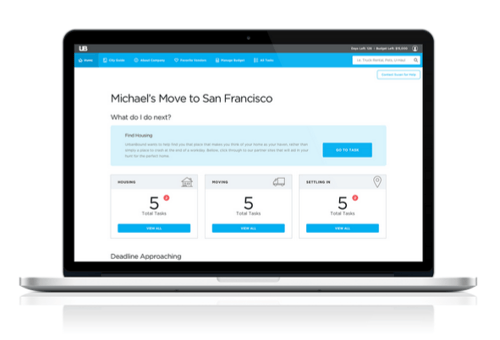 UrbanBound provides Relocation Management Software that helps transferees organize their move, connect with vetted suppliers, and view educational content about their destination.
Couple this move management tool with educational resources and a supplier network to provide a seemingly high-touch experience, without the high-touch cost. Destination guides and moving tips can go a long way to preparing relocating employees. In fact, millennials tend to prefer content they can read and absorb at their own pace versus someone to walk them through it.
With any move, a vetted supplier network is important to ensure relocating employees are working with trusted, proven vendors. Providing an array of recommended service providers will discourage transferees from searching for the cheapest option.
Whether you decide to implement Relocation Management Software or leverage your own supplier network and destination guides, you can impact the move of your lump sum recipients. This moving population often receives the least benefits, but needs the most help. Self-serve solutions are a great way to provide your lump sum population with helpful tools that lead to a great moving experience!