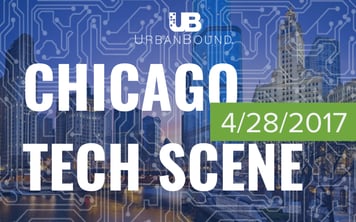 Welcome back this week for another update on what's happening in the Chicago tech scene! You will want to hear what's new in the news. It is time to sit back, relax, and wind down—Friday is here, and the weekend is upon us.
mHUB Could be the Saving Grace for all Chicago Entrepreneurs
"Chicago has historically been a strong software and digital startup hub. But a handful of new spaces and resources are providing the infrastructure for a new type of founder: A hybrid maker-entrepreneur that's looking to create products that can be manufactured and businesses that can scale. And their efforts are creating a new maker and tech community in Chicago."
"mHUB, the city's first space devoted entirely to product prototyping and manufacturing, is the biggest bet on this new type of entrepreneur. It's a 63,000 square foot facility in an old Motorola Mobility prototyping lab in West Town that officially opened its doors to the public in March. The expanded space also marks the hardware community's transformation from hobbyist-maker to supporting growing ventures: mHUB's predecessor, hardware coworking space Catalyze, which Fienup also led, was packed into a small building in the West Loop overflowing with tools, workbenches and entrepreneurs hunched over prototypes."
To learn more about the mHUb and how to get involved
BuiltInChicago speaks with 7 Chicago-based tech companies to Uncover what a value-driven culture actually looks like:
DevMynd is a highly innovative firm that works to build custom software for companies across many different industries.
"One of our core values and something we seek out in our candidates is the desire to ship quality work and use our skills to create value for our clients. The impact sector and our dedication to it basically crystallizes our core values and helps us draw a point on our purpose as an organization."
Wyzant helps students get paired up with one-on-one tutoring along with the correct subject-matter provided by experts.
"One of the exciting aspects of having a business that focuses on the adult, career-oriented learner, is that Wyzant is incredibly relevant to our own team. Many employees take advantage of the company's complementary tutoring benefit in ways that are directly applicable to their current jobs and also helping them develop professionally."
Read more about companies like Via and Swap.com along with three other chicago-based companies and how they have a value driven company culture
With the ability to work work remotely these three companies have set up in a coworking space:
Codeverse
"Codeverse is a vertically integrated technology platform and coding school for kids aged 6-12. Its first studio location, an unprecedented tech-enabled, hackable classroom, will open in Lincoln Park in summer 2017. While many view coworking spaces as a place to network with potential partners, Codeverse took this practice to a whole new level by meeting more partners than you can count."
OneTable
"While OneTable understands the value of networking opportunities, having a coworking space to host their events proved to be perhaps the most helpful aspect of their business."
Chicago Super Sitters
"WeWork allowed us to be constantly networking, to connect with others having the same struggles and victories, and also to have a social atmosphere and energy to a very small staff,"
Learn more about the benefits of sharing spaces
Wish you didn't have to stop?! No worries — there's more where that came from! Check out these great reads from the past week:


The Best Location for Your Startup Is Where Your Customers Are [Entrepreneur]
Big day for Chicago tech as Origin Ventures closes $80M fund [BuiltInChicago]
Tech roundup: Chicago's new fintech association, Rumi dives into the Shark Tank and more [BuiltInChicago]
Illinois Teams Up With Tech Firms To Offer IT Training Courses [CBS Chicago]
10 Illinois Green Tech Startups to Watch [ChicagoInno]