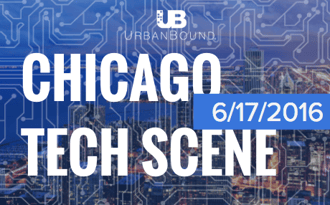 Chicago's thriving tech scene is where it's at!
With so much going on, how can you keep up?
UrbanBound's weekly Chicago tech news blog is here to help. We bring you the top stories from the week.
Catch up on the news you may have missed this week:
Chicago Loop Alliance
Imagine a future where cars drive themselves and perform all your tedious errands for you, while you relax at home. Seems like a fairytale, right?
Well, this future is closer than we realize and things are about to change dramatically. Self-driving cars are already on the streets (in places like Silicon Valley) and should be available commercially between 2018 and 2020, according to The Keynote Speaker Lauren Isaac, Manager of Sustainable Transportation, WSP | Parsons Brinckerhoff.
The Chicago Loop Allianc hosted a Chicago's Autonomous Future forum for their Downtown Futures Series to gain a better understanding of what changes, opportunities (and downfalls) self-driving cars will bring to cities.
Not to be confused with connected cars, the NHTSA defines self-driving vehicles as "those in which operation of the vehicle occurs without direct driver input to control the steering, acceleration, and braking and are designed so that the driver is not expected to constantly monitor the roadway while operating in self-driving mode."

"We're encouraged by the new automated vehicle technologies being developed and implemented today, but want to ensure that motor vehicle safety is considered in the development of these advances," said NHTSA Administrator David Strickland said in a statement. "As additional states consider similar legislation, our recommendations provide lawmakers with the tools they need to encourage the safe development and implementation of automated vehicle technology."
Amina Elahi from Chicago Tribune attended the forum. Read her full coverage here: Driverless cars are coming. Are cities ready?
Skip the Lines at the Post Office and Ship Your Items the Smart Way
ShipBob closes Series A funding with a mission to to empower more businesses around the world with better, easier, more affordable logistics and shipping, according to their press release.
"My cofounder and I were running an e-commerce store ourselves and every time we got an order, we had to go to the post office and stand in line to mail our items," said ShipBob co-founder Dhruv Saxena in the press release. "We realized shipping was broken for SMBs and there were no good solutions out there. That's when we decided to start ShipBob. We've grown rapidly and this round of funding will enable us to scale up to meet demand, to take the pain out of shipping for more small businesses and help them scale as they grow."
Best part — the platform is free to use (pick-up and shipping fees do apply.) Check them out here!
"In an e-commerce world where shipping speed and cost efficiency matter, ShipBob has an innovative approach to helping small and medium e-commerce companies provide efficient and cost-effective logistics," said Ira Weiss, from Hyde Park Venture Partners (HPVP) in the press release. "Merchants need better tools to take the pain out of fulfillment and ShipBob's platform makes the entire process simple and straightforward. The opportunity is huge and we are excited to see ShipBob realize its global vision."
Wish there was more?! Check these out these great reads:
Mayor Emanuel pushing for ride-hailing compromise [Business Journal]
Reloaded Drive Capital invests in startups in Chicago [Business Journal]
FanDuel, DraftKings in merger talks amid legal fights [Crain's Chicago Business]
Tech roundup: HAAS Alert wins Techstars mentorship, Twitter ex-CEO talks tech in Chicago, & more [Built in Chicago]
Procured Health nabs $10M to revolutionize healthcare analytics [Built in Chicago]
Could this Chicago startup make Target search results better? [Chicago Tribune]
Data: Array of Things map: Where Chicago sensors could be located [Chicago Tribune]
Hackers Can Use Wearable, Smartphone Vibration to Eavesdrop on You [Chicago Inno]