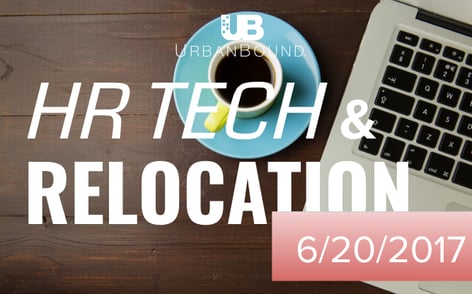 We're back with some of the top news from HR Tech and relocation in the past week!
It was a busy week in the wonderful world of HR and relocation, so we did you a favor and gathered some of the most noteworthy news and compiled it for you in one place.
Read on to find out what's top of mind this week for HR and Global Mobility Professionals:
4 Mistakes Companies Make Using Data In Recruiting
"Too often decisions are made in silos. While most stakeholders want to measure time-to-fill and cost-per-hire, when I ask CEOs, business leaders and HR what they want to see in a one-page dashboard, there are almost always discrepancies. For example, if you are recruiting high complexity engineers with a typical time-to-hire of 90 to 120 days, you should also measure time-to-present, pipeline quality, and labor supply/demand. Once HR and the business agree on the data points they want, you can begin to measure and report on what matters."
"At least half of the organizations I walk into are in some state of change with processes, systems, people or technologies. If not managed proactively, frequent change and turnover can be disastrous for an ATS — particularly in HR where accountability for the system may already be tenuous. I've seen teams get close to a successful implementation only to have a new guard show up and stall the project. With little warning, the use of a once-appropriate platform is suddenly outgrown. Change happens, so you need to be ready to effectively manage it."
"Unless it's a very large enterprise, most talent acquisition teams do not have a dedicated person for leveraging data. Whether this role is filled by one or more persons, there needs to be a dedicated owner for the system's success and ability to deliver on business objectives."
"Whether for internal recruiters, headhunters, hybrid RPO-headhunters, or any other kind of vendor, use Service Level Agreements (SLA) to maintain alignment between data and business needs."
Uncover here what to do in order to not make these mistakes
Your New Hires Won't Succeed Unless You Onboard Them Properly
"It used to be that onboarding was a process of just a few days, but new research shows that spending as much as a year helping new employees get up to speed in the workplace is necessary to capitalize on the skills, knowledge, and excitement they bring to the organization."
"The first three to six months —­­ when new hires are particularly susceptible to turnover —­­ are most critical. On average, companies lose 17% of their new hires during the first three months, one study found."
"A new employee's manager is one of the most important people in the onboarding experience, and gaining this person's support may directly improve or undermine a new hire's chances of succeeding."
"Even with elaborate onboarding programs, organizations need to be cognizant of the power of informal interactions between new employees and their managers, taking steps to ensure that this process facilitates onboarding rather than derailing it. It is important to encourage managers to check in with new employees and make time to offer support. At the same time, new employees should be encouraged to do their part to engage in and take control of their own socialization and onboarding by asking questions, seeking out information, and taking advantage of opportunities to meet fellow coworkers."
Learn more about the importance of the onboarding process to ensure the success of your new hire
Wish you didn't have to stop?! No worries — there's more where that came from! Check out these great reads from the past week:
7 Influencer Marketing Tools for Startups [TechCo]
Wonder Woman – Why Every Firm Needs to Hire One [ERE]
10 Laws of Social Media Marketing [Entrepreneur]
When is the Perfect Time to Post a Job? [Sourcecon]