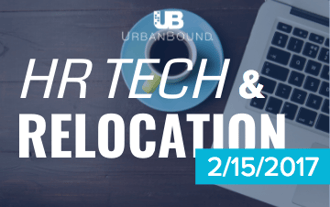 UrbanBound's weekly roundup of HR tech and relocation news is the perfect place to read up on all the trends, insights, and advice from experts in the industry to gain a better understanding of where our future is headed.
There is no shortage of new stories and ideas coming out every week (which is exciting for our industry!)
Take a moment and read the top news you may have missed this week in HR tech and relocation:
On the move: Relocation clients benefit from provider relationships via The Chron
"While we are assisting relocation clients in purchasing or selling a home, it is much more than just real estate," Tess Chaney, relocation director for Martha Turner Sotheby's International Realty, told The Chron's Michelle Sandlin. "We are their friend, their resource, and an ambassador for the city. So, for any need that they might have, we have recommendations through our own personal and professional experiences.
Chaney explains to The Chron: "When you are considered an ambassador for the city, and not just an ambassador for real estate, you can help guide relocating clients through the school system, or provide them with recommendations for educational consultants. We also answer questions about what pediatricians we go to, and what grocery stores are in a particular area. We are really helping them acclimate and enjoy this new chapter of their life."
Read the full interview here.
HR to face sea change in online learning software and accent on teams via Tech Target
"Business leaders are saying, 'OK, I want all my people data to make sense to me in terms of the business problem I have. I am going into a new country or a new city. How much is it going to cost to hire people? How many candidates am I going to have to interview? What kind of turnover am I going to have? What kind of sales productivity am I going to have? Why do I have low sales productivity in this group versus this group?," Josh Bersin, principal and founder of Bersin by Deloitte, says in the article.
"Companies don't run like hierarchies anymore," Bersin continued. "HR departments and managers have to redesign their entire work practices around networks and teams."
Read the full article here.
But there's so much more! Check out these articles:
Global Directions: Mobility Trends in February 2017 [Lexology]
HR's Aversion To AI Will Affect Its Ability To Hire [HR Tech Weekly]
The Most Desirable Employee Benefits [Harvard Business Review]
HR And Branding – The Perfect Partnership [Talent Culture]
What Millennials Really Want In 2017 [HR Tech Weekly]
10 Ways to Make Sure You Get Your Security Deposit Back [Zillow]
How To Build A Talent-Acquisition Strategy [ERE]
It's Time For HR To Do Things Differently [TLNT]
5 Innovation Drivers in HR and Workplace Tech [Human Resources Executive]
Communication is Key [Human Resources Executive]
Access to global talent 'a priority for financial services' [Re:locate Global]
Business relocation can aid in employee attraction, retention [BizTimes]
Rebranding in a Digital Age [Human Resources Executive Magazine]