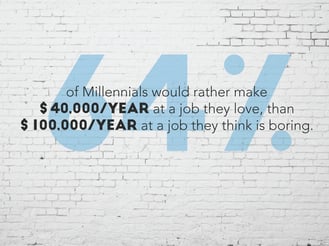 Managing Millennials is becoming an increasingly important skill the more time passes—and people know it. Employers are starting to bring their attention towards Millennials to the forefront of their businesses, no longer treating it as just an afterthought.
Companies are learning not only about how to manage Millennials, but about how to attract them, how to retain them, and how to squeeze the most productivity out of them.
What's important to them?
Is it culture? Is it salary? Is it social involvement? Is it benefits? Is it technology?
There is a lot that goes into understanding what this generation wants, and it's important for us to figure out what makes them tick. There are behavioral patterns that employers can start to track, and then use that insight as they hire more and more Millennials.
Here are a few of the statistics we found to be the most significant in regards to managing Millennials in the workplace:

We gave you the statistics. But now, you need to know what to do with them. Download our eBook to learn strategies and trends behind managing Millennials: