You cherish your smartphone as though it were an extension of yourself. It sleeps by your side, joins you at the dinner table and carpools with you to work; it's your constant companion in the world. With apps and tools that make it easy to jot down big ideas, share data and documents, and collaborate with long-distance colleagues, mobile devices are becoming increasingly prevalent in the workplace.
With so many important details stored in your handheld device, it's a crucial accessory to have on hand at work. However, in terms of responsible and courteous workplace usage, what is proper etiquette? Is it rude to have your phone out during a meeting, or is it necessary to access important information? Here's our take on smartphone etiquette for the boardroom.
In Meetings
We've all been in a meeting where one (or more) of our co-workers sits gazing down, deeply focused on his or her lap. Perhaps they're checking social media and texting friends under the table; or maybe, they're closing deals and finalizing contracts. Regardless of the circumstances, tech use comes across as disengaged and, to some, downright rude.
Although smartphones are becoming a primary tool for business dealings, they are still perceived as devices of distraction. Perceptions draw the line between courtesy and efficiency. From one point of view, your phone could be loaded with software that enables you to jot down meeting notes and share data. From the other, you seem introverted and unprofessional.
Smartiquette Tip: To ensure you're not mistaken for "playing on your phone," make sure you're participating in the meeting. Chime in with ideas, ask question and clue people in with what you're doing with your phone.
During Presentations
Giving a presentation in front of a group is always nerve-wracking, even for the most seasoned presenter. Regardless of audience size, nothing stops the momentum of a speech like a blaring Top 40 ringtone; however, attending a presentation without your smartphone limits your ability to take digital notes. Both viewers and presenters can make small adjustments to make the experience pleasant for everyone.
Smartiquette Tip: If you are an audience member, inform those seated around you that you're using your mobile device for note taking as soon as you bring it out. This way, no one will get distracted by your misconceived behavior. Also, make frequent eye contact with the speaker to show you are, in fact, paying attention to what he or she is saying.
Reminder: Don't forget to turn your phone on silent. Download any of these apps that sync with your daily calendar and automatically silence your phone during important meetings and events.
Presenters: Unfortunately, there is no way around it - smartphones will be out during your spiel. Use this to your advantage. Create a hashtag for your presentation and encourage social sharing, commenting, and engagement.
Luncheons
Whether it's a brown bag affair or a professional gathering outside the office, lunch meetings create a relaxed atmosphere in which to openly discuss business matters. Don't mistake "relaxed" for "unprofessional." Avoid being so tethered to your smartphone that you place it on the table, face up, impolitely awaiting a distraction from the conversation.
Smartiquette Tip: Unless you're expecting an important phone call, keep your phone stashed in your purse or pockets, out of plain sight. Smart smartphone users manage their time as well as the expectations of others, no matter how easy the technology makes it to respond immediately. If your time is committed to an event or gathering, you can return a call later and wait to answer a text. If you must check email, excuse yourself from the table for a minute.
Smartphone usage is becomming increasingly common as Millennials continue to infiltrate the workplace, and while it is something that needs to be monitored, it also needs to be accepted. Interested in learning about more areas where Millennials are changing up the workforce? Check out our eBook below!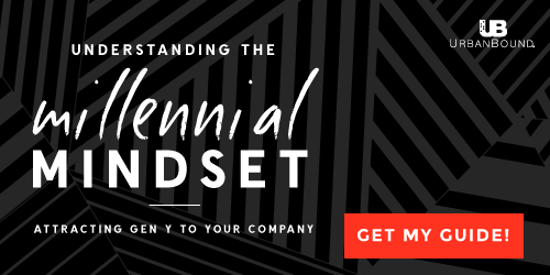 Virginia Chavez-Nelson is a freelance writer and business owner residing in sunny Arizona. Armed with a degree in Journalism, she spends her time on the keyboard crafting content for both businesses and lifestyle publications.