The ability to work remotely is a tremendous benefit. There is certainly something to be said about getting everybody in the same physical space. Great things happen when a bunch of slightly over-caffeinated engineers pile into a conference room with a whiteboard and a collection of multi-colored dry erase markers. And pairing is certainly most effective when your pair is right next to you. However, there is also something to be said for giving people the option to work where they feel they are most productive, or the option to be more involved with their families. Remote work also opens the door to work with talented people outside of your geographic area.
But…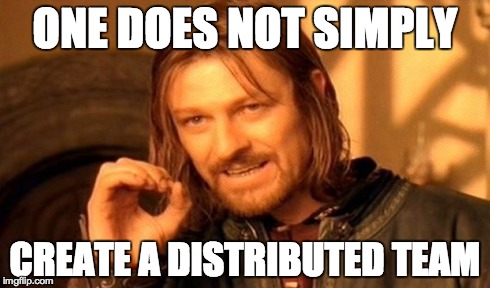 Supporting a distributed team is not easy. Tools alone cannot make it work. It requires a big change in how a team communicates. And, it requires the support of the organization.
At UrbanBound, we have two full time remote members of the product team, a handful of part time remote employees that live out in the boonies, and a few employees that like to work remotely every now and again to either wait for the FedEx guy, or get heads down on a problem for a while. Remote work is a relatively new thing at UrbanBound, and it took a little while for the organization and the team to adjust. Thankfully, we have several team members who have remote working experience, and they were able to help in making that transition a success.
Gaining Organizational Support
Communicating the Benefits
Remote work is fairly common amongst those who work in the tech field. Working remotely is made possible by a wide array of internet based tools that those in the tech field are naturally more familiar with. In most cases, we have been using tools like internet based chat and video conferencing for much longer than those in other professions. This is not new to us. But for others, working with people who are not in the same office requires a big adjustment, which can sometimes be difficult. Others may be reluctant to make that adjustment unless they can clearly see why making this shift is in the organization's best interest.
It is important to communicate that remote work can result in happier, more productive employees. It allows the company to hire from outside of their geographic area, widening the pool of qualified candidates. It is also important to note that today's tools make it cheap and easy to support remote workers. It no longer requires a special video conferencing system; a modern laptop can be its own video conferencing system.
Training on the Tools
As I mentioned above, many of the tools used to support remote work may be new to people outside of the tech industry. Therefore, it is important that people unfamiliar with the tools be trained on how to use them. Letting folks figure out the tools for themselves could take a lot of time, and cause a lot of frustration, which may cause people question the benefit of using such tools and supporting remote workers.
Training somebody to use a tool like Google Hangouts does not require an expensive one week class. A one hour meeting is more than enough to familiarize folks with the capabilities of a tool, and how to use it effectively. It is important that somebody be available for any questions that come up about the tools after the training is over. You'll want to provide as much support as you can in helping these tools gain adoption. Failure to adopt these tools could result in a failed remote worker program.
Helping Make the Adjustment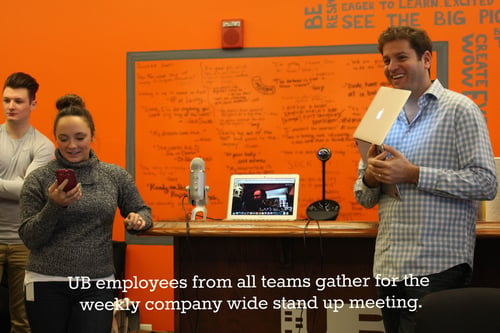 The first remote worker usually has it the hardest. When a company is not used to having remote workers, it is very easy to forget about the person who is not in the office. In-office employees will often host meetings, and forget to setup some way for the remote worker to participate. In addition, remote workers are often left out of company events and activities.
Supporting remote workers requires the company to make small adjustments to how it communicates and plans. Any important meeting should have some way for remote employees to participate...not just "call in", but actually participate. It takes a while to figure out the right setup to foster this participation. The remote employee should be able to hear everybody talking (usually enabled by a good microphone) and everybody should be able to her the remote employee talk (usually enabled by a good set of speakers). The goal is to make it feel like the remote employee is in the room with everybody else.
In addition to being able to hear and be heard, it is a huge plus if the remote worker can both see and be seen. We have two main conference rooms setup with both a microphone, camera and TV. If the remote participants can see the people in the meeting then it allows them to observe body language which is often times a very good way to judge reactions.
Get some actual face time
It helps to bring the employee into the office every once in a while. Seeing the remote employee in person gives the team the ability to get to know that person a little better. It provides the opportunity to grab lunch, and talk about things other than work for a while. Building these bonds helps people go the extra mile to make sure the remote employee really feels like part of the company. Company outings and events are an ideal time to bring remote employees into the office, allowing them to participate in person, and reminding them that they are a part of the company.
Be patient
Patience is absolutely required when making this transition. This sort of adjustment does not happen quickly. It takes time for people to change the way they communicate. It takes time for them to learn how to use the tools effectively. You need to gently keep nudging them in the right direction. If somebody forgot to hook up the multi-directional microphone for meeting and you couldn't hear well as a result, gently remind them of how much better you can hear with that microphone instead of assaulting them for "forgetting about you". It takes time, and patience, but this sort of adjustment is far from insurmountable. Stay positive, be persistent, and the organization will get there.
Other Requirements for Working Remotely Successfully
Fast Internet Connections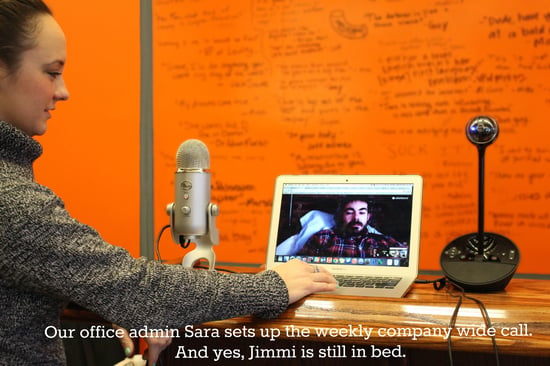 I think it goes without saying that fast, reliable internet connections are a must for all parties involved. Pretty much all communication is done over the internet. It is very difficult to video chat or remote pair with somebody when one of the parties has a poor internet connection. In order for the communication to be seamless, as it would if you were sitting right there with the person, it is important that the audio be of high quality, and not cut out during the conversation.
Quiet / Private Places to Chat
Perhaps not quite as important as having a good internet connection, but having a quiet/private place to work is important. Even with directional microphones, it can sometimes be difficult to hear people if there is a lot of background noise (like in a loud office or a coffee shop). It is always best if you can duck into a quiet room when doing a video chat or having a remote pairing session. If you manage remote employees, or visa versa, then having a private place to chat is especially important.
Summary
It takes some work and a commitment from the organization to make working remotely a success. But I think that most companies are capable of making the transition, and the benefits far outweigh the costs. Granted I'm biased, as I work remotely a few days each week from the boonies. But at this stage in my life, I'm not sure that I could commit to commuting three hours a day, every day. The ability to work from home a few times a week allows me to put in a full day's work, and still be very active in my kids' lives -- all of which makes me a very happy and productive employee.

In Part 2 of this two part series, we will discuss some of the tools we use to make remote work *work*. Stay tuned!