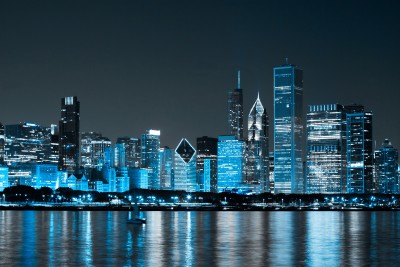 In terms of places to build a startup, Chicago is high up on the list. Even with its brutal winters, Chicago has a rapidly growing tech community that nourishes new and existing startups.
With tech employment thriving from 30,000 to over 40,000 employees, tech is a hot topic in the Windy City.
Chicago also happens to be one of the top cities that Millennials relocate to. The youthful Generation X is searching for work, and they are seeking out startups! With great potential Millennial employees, a supportive mayor, and a creative, innovative environment, Chicago is sure to be a great place to drop your startups' doormat and call home.
Millennials in the Second City
Studies show that 14% of Chicago's population is between 25 to 34 years old - a firsthand example of Millennial residency making Chicago a staple on the list of top cities Millennials are relocating to. With statistics to show, it is clear that Chicago is on its way to housing more and more possible job candidates.
Millennials are known to be sought after employees with their creative and refreshing work ethic. With the creative, innovative, and casual energy that startups offer, it is obvious why Millennials and startups make a great match. Since startups are constantly growing, they match the Millennials need for a challenge and change.
Being in a cubicle-filled environment simply isn't what most Millennials look for in a job. Their job expectations are set very high since they endured many years of college and are now being faced with the after-math: college loans. Startups meet many of the needs of Generation X. This is why urban cities housing startups - like Chicago - tend to be popular among Millennials. The fact that Millennials are flocking to the Windy City is great news for startups looking to hire, since there are plenty of fresh faces to welcome.
Mayor Emanuel Roots for Tech
"I think the city of Chicago will become the mecca of startups in the midwest."
Acknowledgement of the booming startup industry not only from the citizens of Chicago, but also from its' mayor, is just another reason startups will feel welcomed in Chicago. Mayor Rahm Emanuel has been known to show his support of startups through appearances at events like Chicago Tech Week, SXSW, and through his political efforts to double tech employment as well.
According to Built in Chicago, since Emanuel has served as Governor of Chicago, Chicago tech employment has grown a third, going from 30,000 to over 40,000 employees - an accomplishment no other business sector has done in such a short time frame.
The City Fostering Creativity
Chicago's innovative citizens and politicians could be influenced by the city's creative architecture. The city's landscape fosters creativity with upcoming architectural efforts like the Lucas Museum- a museum aimed to showcase all types of visual art.
The museum is only one of Chicago's recent ventures geared to improve its citizens way of life. In a city as breath-taking as Chicago, it's hard not to be inspired - this inspiration is why artists flock to the city. Chicago has become a creative hub where people can foster some of its energy to become the best innovators they can.
What This Means
Nothing sums up Chicago's technology efforts towards becoming the 'Startup City' better than a personal letter from the Mayor himself, displayed on The City of Chicago Technology Plan's website, Mayor Emanuel states that his "plan lays out a comprehensive vision for a future shaped by groundbreaking technology. The strategies and initiatives outlined provide a roadmap to drive Chicago to its aspirations of opportunity, inclusion, engagement, and innovation for all." By the sounds of it, his plan sounds quite innovative and beneficial to all tech-involved citizens.