Home safety is extremely important. Verifying your new home's smoke and carbon monoxide detectors should be one of the first things you do upon moving in.
Most CO and smoke detectors have a "test" button, but those normally just measure the amount of power left in the battery. You should definitely be checking battery power on a regular basis, but right now we want to make sure the devices are functioning properly. Before you go around your place starting fires and holding your CO detector in front of your car's exhaust, I should mention that there are much safer methods of testing.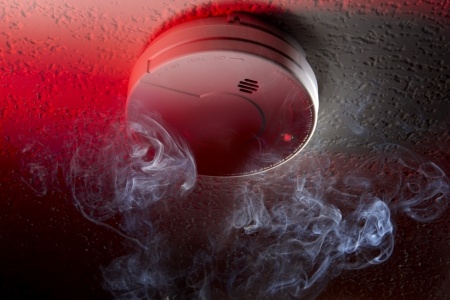 Verify the location of your detectors - The first thing you should do is make sure your home is equipped with the detectors. It's going to be really hard to verify them if they don't exist. Look around your home, they're normally on the ceiling.

Smoke detectors should be no lower than one foot from the ceiling, but actually putting them on the ceiling is even better.

You also want to make sure that your detectors aren't in locations that will cause frequent false alarms. CO detectors are easily set off by appliances that use gas like stoves, water heaters, and fireplaces, so try to place them between 10-15 feet from such things. Smoke detectors usually go off accidentally because of cooking-related mishaps, but the kitchen is also one of your home's biggest fire risks. Placing a smoke detector near (not in) your kitchen is the most efficient practice.

Put a smoke detector in every bedroom, and put both smoke and CO detectors in hallways. Avoid placing your detectors near windows or vents, as they can affect readings.

Put a smoke detector, but not a CO detector, in your garage and attic.

Your basement should be equipped as well. Put a smoke detector near the stairway, and avoid putting the basement CO detector near the furnace or water heater.

It's best if your detectors are interconnected. That means if one of them detects smoke or CO they all go off. If your basement smoke detector detects a fire then your bedroom alarm goes off as well, giving you a better chance to hear it and get to safety. An electrician can help you with this.

Testing your CO detectors

CO detectors measure the parts per million (ppm) of carbon monoxide in the air. 400 ppm for three hours is considered a fatal concentration of CO, but a good detector will sound if the concentration reaches 70 ppm for over an hour.

You can purchase a CO testing kit at most hardware stores. These kits normally come with a canister of CO, and a plastic housing that fits around the detector. You simply release the CO into the housing, and the detector should recognize it and the alarm will sound.

CO testing kits can emit as much as 1000 ppm of CO, so they aren't a great indication if your detector is picking up smaller amounts. Using incense, a cigarette, or something else that emits smoke in a safe, controlled stream can help. Simply hold your smoke-emitter of choice near the detector, and see if it goes off.

Testing your smoke detectors

You can purchase "canned smoke" or similar products at most hardware stores. They're basically aerosol spray cans that you can spray at your alarm to test them.

Most smoke alarms have test buttons that efficiently detect if the sensors are working properly. Check your instruction booklet (most can be found online) to see if yours has this feature.

Never hold open flames to your smoke detector. This can damage the device.

Other helpful tips

Notify your roommates or neighbors when you're testing your detectors. You don't want to make them think your home is on fire or filling up with lethal CO.

Make sure you can hear the alarms in every part of your home.

Test your detectors on a monthly basis.

Use a duster and/or a vacuum to remove airborne particles that might clog your device's sensors.

Replace your detectors after 10 years of continued use.
You should never overlook your home's safety features. Smoke and CO detectors should be checked before you spend your first night in your new home. It will give you peace of mind, and it will keep you safe.