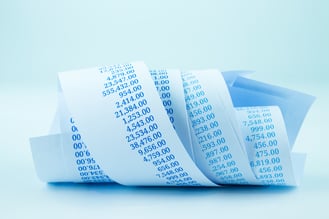 Disclaimer: This blog was written before the Republican tax bill was signed into law on December 22, 2017. Please note, some information may be outdated.
"Direct Bill" is one of those terms that makes perfect sense to those of us in the industry, but doesn't necessarily have the same familiar ring to an outsider.
Google the term "direct bill" and you will find a number of resources describing a payment arrangement, but none of them describe the impact that direct bill can have on your relocation program.
Within the relocation industry, utilizing direct bill benefits means that your company pays suppliers directly for employee relocation services.
For example, let's say that your company offers a $10,000 lump sum to cover household goods shipment. In this scenario your relocating employee finds the supplier, books the service, and pays for the amount. If you were to take a direct bill approach instead, the van line would bill your company directly, instead of the transferee. This also results in reducing or eliminating tax burden for you and your employee, but we'll get to that later.
Including direct bill benefits (also referred to as "direct paid" or "core relocation benefits") in your relocation policies can save your company time and money, while ultimately resulting in a better relocation experience for your employees. Specifically, paying suppliers directly can help you take advantage of IRS tax guidelines to save money for both you and your relocating employee.
How, you ask? Let's discuss
As mentioned above, direct bill means that the employer pays suppliers directly for relocation services, like shipment of household goods and final travel. Typically this is coordinated by a third party who specializes in both building relationships with suppliers and managing the direct bill invoicing process.
It's a best practice to use a third party because they have the bandwidth to support a number of different vendors that can be direct billed—even just setting up all these suppliers as direct bill could be a headache for your financial teams. Policies that include a direct bill component often allow employees to direct bill services like the following:
Shipment of Household Goods

Household Storage

Final Travel

Short-Term Housing
Depending on a company's policy, the employee may be given a single budget that allows them to spend up to a certain amount across all categories, or, they could be given a monetary cap on each benefit.
Now let's talk about the basics of tax implications
The IRS allows individuals to deduct certain relocation expenses from their taxable income, if they meet certain criteria. Categories that are considered eligible for deductions include:
Shipment of household goods and personal effects

Storage of household goods within any period of 30 consecutive days after possessions are moved from the old home and before they are delivered to the new home

Final travel to new home
For complete details on deductible tax categories, please visit the IRS website. In order for these relocations expenses to be considered deductible. Employees must meet the time and distance test. Remember that most interns don't meet the time test and therefore don't qualify for excludable (or deductible) relocation expenses.
Now for the good part. If an employer chooses to leverage direct bill, these deductible relocation expenses become tax excludable. This means that these expenses do not have to be reported on the employee's W2 and saves your company from owing payroll taxes. Basically, it's a win-win!
Let's compare this to to a lump sum move. When an employee receives a lump sum, it's fully taxable because the money is considered income to the employee. This means that the relocating employee owes taxes and your company will owe payroll taxes. The relocating employee can still claim tax deductions for the relocation expenses listed above, but they are responsible for saving their receipts and claiming the deductions.
Some companies choose to gross-up the taxes on behalf of their employee. This eliminates or reduces the tax burden for your relocating employees, but can drastically increase the company's cost of providing a lump sum.
Let's say an employee receives a $10,000 lump sum, intended to cover shipment of household goods, and the company grosses up by 25%. That's $2,500 in taxes and a total benefit cost of $12,500.
Now, let's take a look at what would happen if the employee direct billed household goods. For the purposes of this example, we'll say that the household goods shipment was exactly $10,000. Because household goods is an excludable relocation expense when direct billed, there are no taxes owed. This is a savings of $2,500.
Multiply that savings by your total number of relocations and you can start to see the savings add up.
In addition to tax savings, your employees also benefit from using a proven relocation process. Offering direct bill benefits provides employees with guidance and structure for making relocation decisions. Employees easily understand how much can be spent in each category and have access to trusted, quality suppliers. Additionally, employees are not required to front relocation costs as long as they stay within their direct bill allowances. Employees can efficiently and successfully execute their move, while you can rest easier knowing that they are not overwhelmed with managing their relocation.
By leveraging direct bill benefits, you gain visibility into the cost of each relocation, take advantage of tax savings, and create a structured experience for your relocating employees.