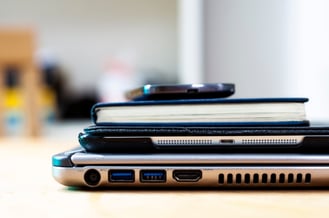 If there's one topic that has provided consistent fodder for dinner table discussions over the last few years, it's the economy.
Now, if your family is anything like mine, one of the reasons for this was because it was the perfect thing to complain about—righteous indignation is the easiest emotion to grunt around a slice of pizza or a passive-aggressively-stabbed forkful of salad, and we German-Italians are a carefully disgruntled people.
Of course, there were also much bigger reasons to focus on the economy, not least of which included skyrocketing unemployment rates, decimated housing prices, unceasing declarations bankruptcy, and seemingly no sign of relief or proposal of solution in the immediate future.
When an economy suffers as much United States did, full recovery is neither quick nor even, sometimes, entirely possible. According to an article on TLNT, a study done by Federal Reserve Bank of Kansas City showed that the American labor market's rate of change (how rapidly economic conditions are changing as compared to past years) is the highest it has been in over a decade, but the market's level of activity (how far market conditions are from historical averages, after taking a massive plunge around 2008) is increasing at a much slower rate.
It's a Gradual Crawl
It's a gradual crawl—nowhere near a sprint—but theoretically as the rate of change continues to rise, so too should the level of activity. This will eventually yield a decline in unemployment statistics and, therefore, improved market conditions.
Will we ever get back to the way things were before in terms of unemployment rates and market conditions? That remains to be seen. The Bank's study is meant to organize the current economic data in order help us understand the true state of growth of the economy, rather than just throw a hodge-podge of percentages at us and leave us to groan about it at our dinner tables. The growth might be very gradual, but it's still growth.
Even alongside relentless bankruptcy claims and a diligently climbing unemployment rate, one of the greatest sources of concern—and frequent topic of any economic discourse—was the 2007 collapse of the housing market. Relocating employees typically move to another state in a relatively short period of time, and therefore often experience an accelerated buying and selling process: they want to turn over their homes and relocate to their new area as quickly as possible.
With the late 2007 decline in real estate values, extension in home marketing times, and less availability of mortgage credit, the relocation process slowed down considerably—even, in some cases, coming to a total standstill. Employers reliant on workforce mobility found themselves at a major disadvantage: employees could either face an exorbitantly difficult moving process that wasn't guaranteed to succeed, or they could refuse to relocate altogether, and they usually elected the latter.
This dealt a crippling blow to market areas typically dependent on relocation activity (including Chicago!), and the astronomical cost of relocation increasingly forced companies to think outside the box when incentivizing new hires to transfer—for example, some employers offered temporary housing allowances, while others expanded their reliance on remote, long-distance employees.
The Recovery Process
Today, the real estate market is enduring a long, arduous recovery process, which began in earnest only about a year or two ago, and rates of employee relocation are creeping upwards with it. However, relocation destinations have changed: rather than heading for the higher-taxed major cities (as was largely the case in the past), employees have begun heading to up-and-coming city centers with lower taxes.
Remember our blog about the best cities for Millennials?
The developing metropolises we discussed are quickly becoming hotspots for employee relocation today—workers are regularly electing Seattle over Boston, or Ithaca, New York over Manhattan. Essentially, the economy's recovery has caused a reshuffling of major centers of business and commerce.
Going forward, employee relocation will play a major role in economic growth and recovery, especially in terms of the housing market. Even in the worst years of the housing market, around thirty percent of residential real estate activity came from relocating employees—this number is sure to balloon as Millennials begin to enter the workforce in earnest, especially since one of the hallmark characteristics of Gen Y is an enthusiastic willingness to relocate for their job.
Companies who implemented new relocation policies during the economic downturn will absolutely see growth in terms of their employees as housing prices continue to increase, and the level of activity of the market rises, more and more workers will be willing to relocate, and businesses that made employee relocation easier will benefit from these relocatees.
Millennials are attracted to employers that show willingness to expand and change as necessary, which will likely be yet another reason companies who adjusted their relocation policies to meet the economic crisis will benefit from the slow uptick in the economy. Many employers are realizing this and installing guaranteed buy-outs and other benefits to ensure they attract critical hires and Millennials.
While we're not economically out of the woods yet, conditions for and rates of relocation are improving steadily, and employers should take advantage of the boost by implementing new benefits and policies in their relocation programs.