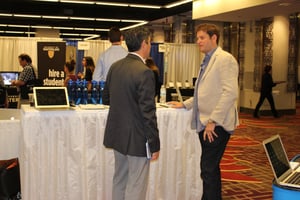 Bound for the 2019 NACE Conference & Expo in Orlando on June 3-6? We are, too! It's a once-a-year opportunity for members of The National Association of College & Employers (NACE) to focus on professional development, connect with peers, and explore exciting new business solutions.
There will be much to do and learn during conference hours, including more than 80 value-packed workshops. But because the venue is at Walt Disney World's Swan and Dolphin Resort, chances are, you'll want to explore some attractions during your downtime. After all, you'll be right in the heart of the most popular vacation destination in the world!
However, with four theme parks and more than 300 dining options to choose from, to get the most from your mini-excursions, you'll need to have a plan.
With that in mind, we put together an overview to help you develop your strategy—as well as a few completely-unofficial suggestions from the UB crew.
The Theme Parks in a Nutshell
New to Disney World? Haven't been since you were a child? Well, here's the basic set-up: along with water parks, golf courses and three dozen resorts, there are four distinct theme parks, each requiring a separate admission and offering unique delights.
The Magic Kingdom – The Most Magical Place on Earth is where Disney's iconic stories and characters come to life. This is the most popular, crowded theme park. Many attractions are geared to "small fry". Unless you're a Disneyphile and absolutely can't bypass "It's a Small World" and "Pirates of the Caribbean," you may want to save the Kingdom for when you're with your favorite kiddos.
EPCOT – Organized into two sections, EPCOT offers many attractions with grownup appeal. Future World showcases human innovation through popular "edutainment" like Spaceship Earth and Imagination! The World Showcase features 11 pavilions—each representing a country--complete with cultural events, shops and authentic dining options. If you're visiting just one park and have an inquisitive mind, consider making EPCOT your pick. Bonus: it's a 10-minute walk from the Swan and Dolphin.
Disney's Hollywood Studios – If you love movies, are fascinated by animation, or are obsessed with Star Wars, you may prefer to spend your free hours in Hollywood Studios. While many features are geared to kids' franchises (Toy Story, Monsters, Inc., Frozen), adult favorites include a host of Star Wars themed attractions and the ever-popular Indiana Jones Epic Stunt Attraction. It's also within walking distance of the resort.
Animal Kingdom Theme Park – Is wildlife your thing? Then Disney's newest theme park may be your can't-miss. The largest animal theme park in the world, it's home of the 100-acre Harambe Wildlife Reserve, which houses many magnificent African species. Recommended attractions include the Kilimanjaro Safari, a guided truck tour through the reserve, and the Maharajah Jungle Trek, a self-guided foot tour replete with footbridges, waterfalls and tantalizing views of exotic jungle dwellers.
The Scoop on Theme Park Ticket Prices
There's no question that theme park tickets are pricy. Assuming you're staying at the resort, you can buy specially-priced tickets online at https://www.mydisneygroup.com/nace# until June 3 at 5pm.
Under this arrangement, you have several ticket options. Rule of thumb: the more "days" you purchase, the less-expensive the per-day price. A two-day Base Ticket (which offers admission to one theme park per day) is about $188. A two-day Park Hopper Ticket (which allows you to visit multiple parks per day) is about $246.
Just dedicating an evening to the parks? Your best option might be the one-day "Partial Day Ticket" which costs either $59 (for one park, from 5pm on), $88 (for one park, from 1pm on) or $140 (with Hopper privileges, from 1 pm on). But hurry: these also need to be bought in advance online.
Or, Skip the Parks
You can absolutely enjoy an authentic Disney World experience without setting foot in a theme park.
Disney Springs, a vibrant "retail, dining and entertainment center" offers hours of lively diversions. You'll find 63 dining options, ranging from celebrity chef-named restaurants to yummy food trucks. There are more than 100 shops to explore, including fancy designer boutiques. a dizzying array of Disney shops, and funky finds like Lefty's - The Left Hand Store (just what the name implies) and The Art of Shaving.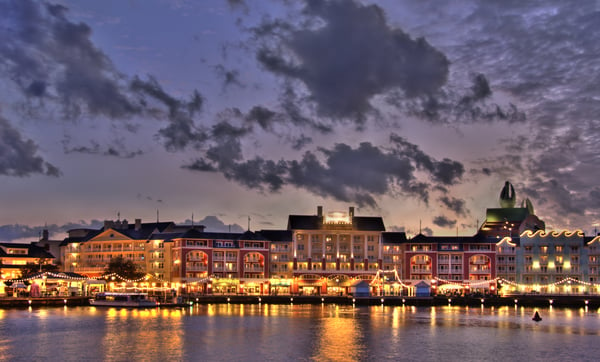 As for restaurants, you'll find a number of prime choices inside the resorts. Try the Cape May Café at the Beach Club for the clam bake…the Maya Grill at Coronado Springs for Mexican specialties…or Olivia's Café at Old Key West for conch chowder. There are 17 restaurants right inside the Swan and Dolphin, including Todd English's Bluezoo, which is highly acclaimed.
Reservations can be admittedly tricky, but the My Disney Experience app may be helpful in snagging a last-minute seating. As an alternative, grab a few of your new conference friends and scout out some appetizers and adult beverages in one of the many bars and lounges scattered throughout the resort hotels.
Trader Sam's Grog Grotto, a tiki bar in the Polynesian resort, and Geyser Point Bar and Grill at Wilderness Lodge come highly recommended, as does Kimono's, a sushi bar located right in the Swan that transforms into a karaoke bar at night.
Getting the Most from the Conference
Of course, the main event is the NACE conference. In addition to taking advantage of some amazing workshops and great networking opportunities—not to mention the keynote addresses—be sure to visit the Expo in Atlantic Hall, found on the lower level of the Dolphin Hotel.
You'll find nearly 90 exhibitors offering products and services designed to help your institution meet its goals—and UrbanBound is one of them.
When it comes to attracting and developing talent, an exceptional relocation program is a must. We'd love to show you how our cloud-based technology is transforming the relocation industry and tell you a little about Freeway, our latest innovation.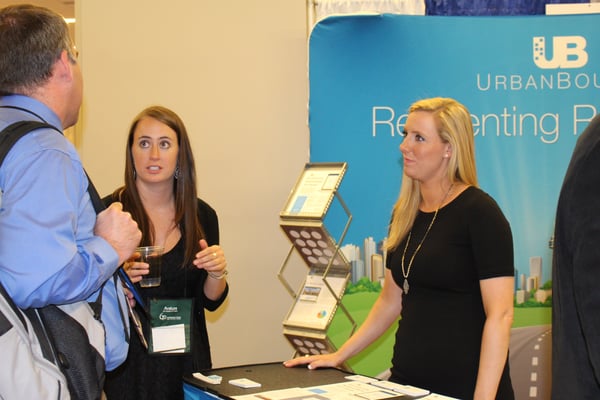 Our team would love to say hello, and we have a gift for you, too, so be sure to stop by Booth #403. Or schedule a demo ahead of time!
See you in Disney World!
Stay up to date
Subscribe to the blog for the latest updates