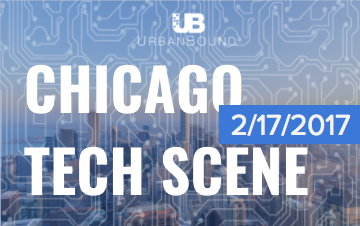 Looking for the top news from Chicago's thriving tech community?
You're in the right place!
UrbanBound's weekly blog brings you all the happenings into one convenient spot. It's the best way to keep up with everything that is happening.
Check out what you may have missed this week:
Classform is on a mission to save your school's STEM budget via Built in Chicago
"We recently did a survey with 100 school districts, and 75 percent of the schools that responded deployed 75 percent or less of the software licensing they purchased," said classform co-founder Tony Sheffler in the interview with Built in Chicago. "There's a great opportunity to drive some spend out of schools and put the money back into their budgets."
Co-founder Blair Walsh told Built in Chicago, "The average school is really slow to adopt new technologies, because there's not a lot of great information sharing about what works. There are schools that are really hungry to adopt new technology, but fear that they're not well-trained enough."
Vibes Expands to Europe to Power Mobile Marketing Campaigns for Brands via press release
"Entering the European market enables us to bring Vibes' technology and expertise to a wide new set of brands and retailers," said Jack Philbin, co-founder and CEO of Vibes in the press release. "Clients have been wanting to see our platform in international markets as they navigate the challenge of connecting with consumers who are increasingly difficult to engage. We look forward to helping marketers create relevant, personalized mobile experiences that drive effective engagement and achieve their marketing and loyalty objectives."
Narrative Science delivers API, ushering in the next generation of BI and analytics via press release
Bernard Marr, an internationally recognized expert in business performance and data, said in the press release, "In a world where 'drowning in data' is a real danger that I see many companies falling foul of, the emphasis needs to move away from analyzing everything we possibly can, to identifying what is truly important. Advanced NLG is one of the key technologies powering the move to a data-driven society, and this API makes it available to a whole new audience."

"We're thrilled to launch this API and make natural language generation more widely available. Our partners are our top priority and we're excited to closely collaborate with them to help them deliver a differentiated, intuitive user experience that drives platform engagement," said Mauro Mujica-Parodi, General Manager of Integrated Narrative Solutions and Applications at Narrative Science in the press release. "Data increasingly plays a role in our lives and our API transforms that data into meaningful, actionable language."
Rippleshot Raises $2.6 Million in Latest Funding Round via press release
"I am very pleased to join Rippleshot's impressive board of seasoned payment veterans," said Gloria Colgan in the press release. "This is an extremely exciting time in the company's growth and I look forward to helping accelerate their leading position in the market."
"This latest round of funding comes at a time where we are in a unique place to help bridge the fraud detection gap between issuers and merchants," said Canh Tran, CEO and co-founder of Rippleshot in the press release. "As we expand into the merchant space, we are excited to put this funding to good use as we work to encourage collaboration across the industry in order to make payments more secure for everyone. With Gloria joining our board, her impressive background will be invaluable as we take the next step in growing our footprint."
But there's so much more! Check out these articles:
Groupon shares jump as it beats revenue predictions [Chicago Tribune]
From trees to towers, this Minecraft model of Chicago is incredibly detailed [Chicago Tribune]
Switch Fresh Has a New, Sustainable Take on Deodorant [Chicago Inno]
Chicago Developer Is Kickstarting a Remake of Cult Classic 'Mutant League Football' [Chicago Inno]
Chicago data company Dunnhumby signs deal with Whole Foods [Chicago Business Journal]
Wal-Mart, seeking Amazon-like efficiency, to consolidate some online and in-store operations [Chicago Business Journal]
Office Envy: Sprout Social's new space has artwork made from 1,000 cans of LaCroix [Chicago Business Journal]
2017: The Year Traditional & Digital Media Converge [Built in Chicago]