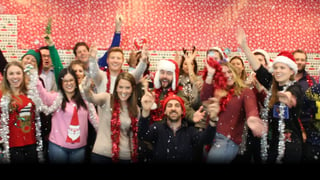 Now what would this season be without UrbanBound's annual wish to you and your team, through song and dance, for a happy holiday?
Luckily we already answered the question for you, and the answer is: Nothing. This season would be nothing without UrbanBound's annual holiday video.
While the tradition of the UrbanBound clan bopping around to holiday songs carries on throughout the years, some things haven't changed.
For one, the team has yet to perfect our angelic harmonies and near-professional dance choreography...but thankfully our spirit and enthusiasm makes up for what we lack in those other non-important things. (And in case you were wondering, we are looking for new additions to the UB Choir. More on that here.)
While the close of another year marks the end of our 2017 chapter, we don't want to turn the page before thanking everyone who was a part of making this year such an important part of UrbanBound's history.
We are incredibly grateful for our strong partnerships and network of customers, suppliers, colleagues, and friends.
Yep, in case you didn't get the memo, we're coming to town (and no, it's not for dance and vocal lessons). Get ready for a year full of new features, continued, education, relocation trends, and much more.
We thank you all for being part of what made 2017 such a success, and we look forward to what lies ahead in 2018!
Happy holidays from our family to yours—we wish you the happiest new year.