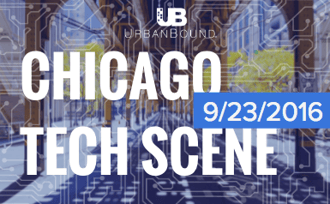 We are proud to announce that UrbanBound has been named one of the Top 100 Finalists at the 15th Annual Chicago Innovation Awards! We work hard everyday to bring the best relocation management solutions for HR professionals and their relocating employees. As the relocation industry continues to grow, we can't wait to see what the future brings.
At UrbanBound, everyone is a part of the successes and milestones our company encounters, and winning this award acknowledges us as a progressive company in not only the technology space, but the relocation space as well. We want to extend our deepest gratitude to those who have believed in us and helped us on our way, and to our magnificent clients who are the reason that we do this. It is your advice and feedback which guides us as we craft our future road map, and without all of your patience and feedback, we would not be here!
"Innovation is in the DNA of UrbanBound, and it is at the core of what the company was founded on," said Co-founder Jeff Ellman. "We are always trying to find new ways to leverage technology to make the relocation process easier and more seamless for our clients and their employees, so we are honored that the Chicago Innovation Awards sees how disruptive our technology is."
"Employers are now having that "Aha" moment and are taking notice to how powerful an RMS can be for their company. We are looking forward to continuing to innovate and solve the challenges our customers face."
This year saw a record-breaking 643 nominees and we are honored to be recognized along with many of Chicago's top innovative companies. The awards celebrate the most innovative new products and services in the Chicago region across all organization sizes, sectors and industries.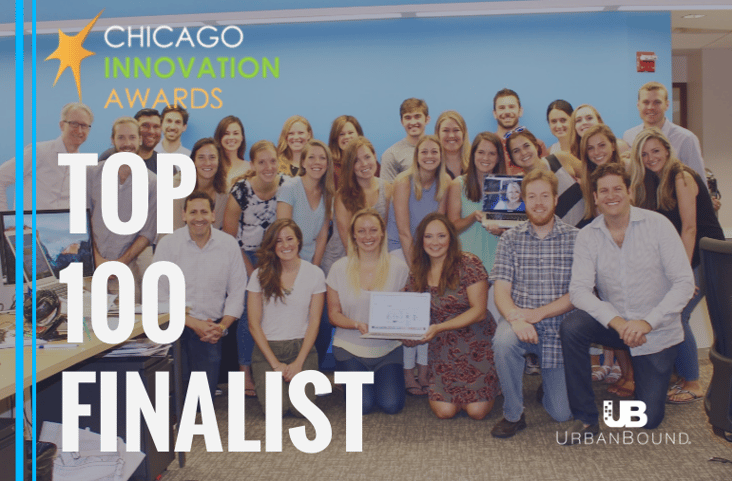 Winners of the Chicago Innovation Awards come from all walks of life from big companies to small companies, non-profit and for-profit, and can range from high-tech to companies that use little to no tech. The nominees and winners all offer innovative solutions to everyday problems.
"We are honored to be named one of the Top 100 finalists for the Chicago Innovation Award. Not only is this such a great accomplishment for UrbanBound, it's really a testament to how the city of Chicago has fostered a hotbed of innovation. UrbanBound feels humbled to be in such great company among the other nominees and leaders in the thriving Chicago tech space," said Michael Krasman, UrbanBound CEO and Co-founder.
Innovation is a catalyst for growth and as innovation and technology are changing the way many industries provide a service, Chicago's Innovation Awards are putting the spotlight on Chicago.
Our hometown, which has been thought of mainly as an industrial city, wants to showcase their innovators, inventors, entrepreneurs and risk-takers. With the opportunity the awards have provided us, we are part of paving the way and reinventing Chicago as a leader in the technology and innovation space.
"What I love about Chicago is its breadth of innovation," said Tom Kuczmarski, Co-founder of the Chicago Innovation Awards. "This year's nominees prove that innovation is taking place in both large companies and small, across industries, for-profit and non-profit, high tech and low tech. These risk-takers and visionaries are at the forefront of solving all kinds of unmet needs in the marketplace."
Help Us Move Forward!
Now it's in your hands!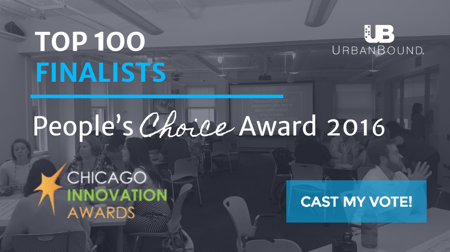 As one of the Top 100 Finalists, we are in the running for the People's Choice Award which allows the public to vote for their favorite innovative companies and products!
If you have a chance, head over to the People's Choice Award [voting page] and place your vote for your favorite innovative company in Chicago. To place your vote for UrbanBound (which we hope you will!), click through to the Human Resources section on Page 11, select UrbanBound, and then click "Next" until the final page to make sure your vote is submitted. The deadline to vote is October 6th.
What Happens Next?
Out of the Top 100 Finalists, the judges will select 10 winners of the Chicago Innovation Awards, as well as 10 winners of the Up-and- Comer Awards representing innovation in the startup community, the Social Innovator Award, the Collaboration Award, and 3 new Neighborhood Award winners, which will showcase innovation occurring in Chicago's diverse neighborhoods.
The winners will be invited to ring the NASDAQ Bell in New York City, invited to separate meetings with Mayor Rahm Emanuel, Governor Bruce Rauner and Cook County President Toni Preckwinkle, and receive widespread media recognition.
About the Awards
The Chicago Innovation Awards, established in 2002, have grown from a single awards ceremony to a year-long series of events and activities designed to celebrate innovation in the Chicago region, educate people and organizations about the principles of innovation, and connect the corners of the economy by building relationships that strengthen companies, grow the economy, and create jobs. The organization's expansion has included formation of the Chicago Innovation Foundation, which promotes innovation education and provides scholarships to college students each year, as well as The Innovators Connection, which connects large companies with Chicago-based start-ups.
Related posts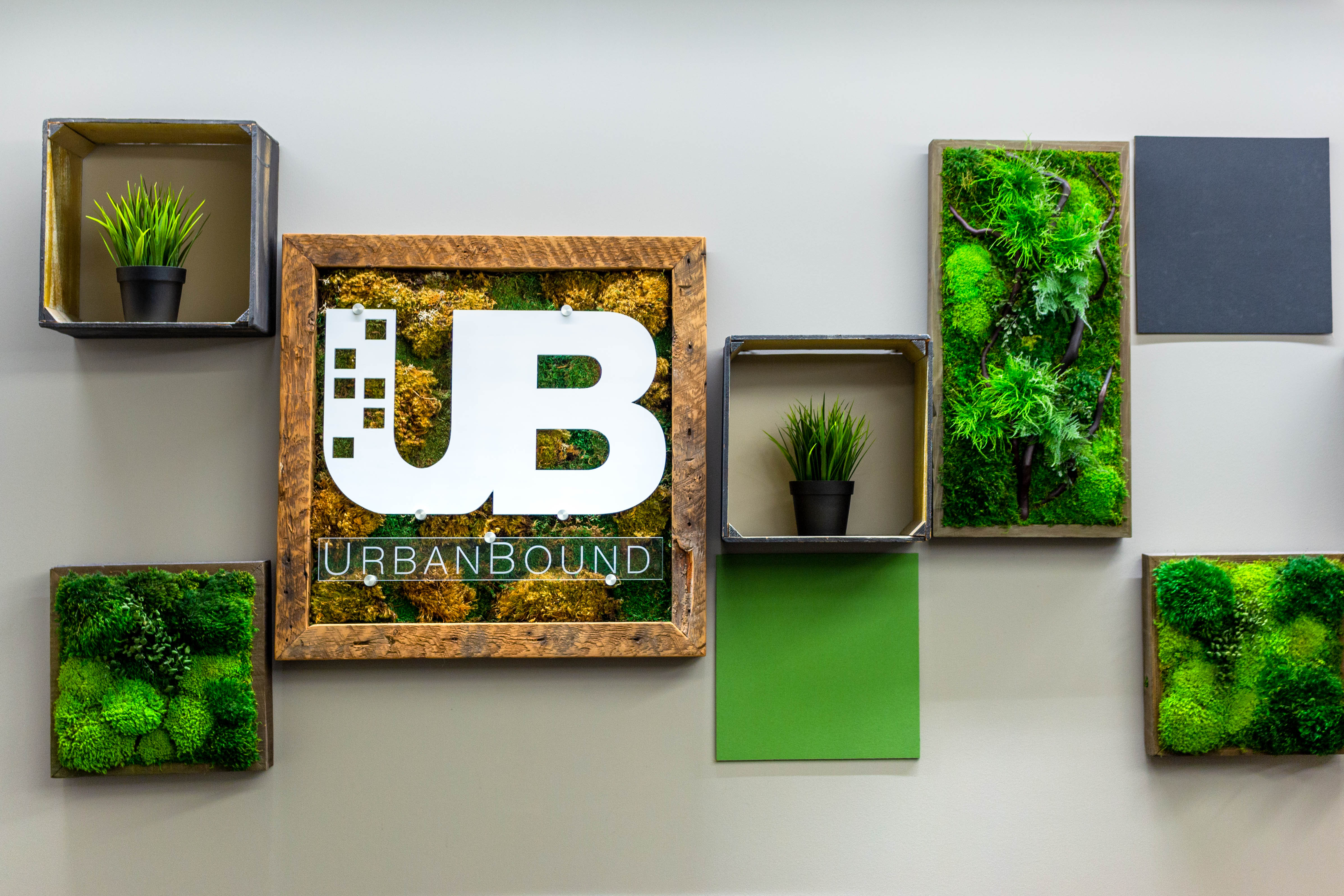 Even before COVID-19, the relocation management industry was in a state of flux. UrbanBound, the first tech-based relocation provider, continues to grow. Learn why and more.
Read More →